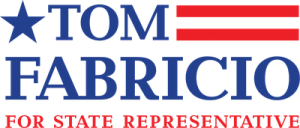 The former State Senator and incoming Miami-Dade County Commissioner says
that Fabricio has shown character and principle in the race for House District 103
The Tom Fabricio for State Representative Campaign today announced the endorsement of former State Senator and Miami-Dade County Commissioner-Elect Rene Garcia.
"Proud to endorse Tom Fabricio for State Representative," said Rene Garcia. "His win in the primary is evidence that he's earned the confidence and trust of the residents of House District 103. He has unquestionable character and a guided principle to do what's right for our community. I look forward to working with him on behalf of the people of Northwest Dade."
Rene García was elected overwhelmingly in 2020 as Miami-Dade County Commissioner with 77% of the vote. Prior to that, Garcia served as a Republican member of the Florida State Senate, representing the Hialeah area in northwestern Miami-Dade County since 2010. He previously served four terms in the Florida House of Representatives, from 2000 to 2008.
"Rene Garcia has been a true public servant to South Florida," said candidate Tom Fabricio. "As a State Senator and now as County Commissioner, Rene has always put his community first and it's an honor to have his support."
Tom Fabricio has been endorsed by the South Florida Police Benevolent Association, the Florida Chamber of Commerce, the National Federation of Independent Business, State Senator Manny Diaz, Jr., former Lieutenant Governor Carlos Lopez-Cantera, and former Miami Lakes Vice-Mayor Frank Mingo.
ON THE WEB:  www.TomFabricio.com
Paid by Tom Fabricio, Republican, for State Representative