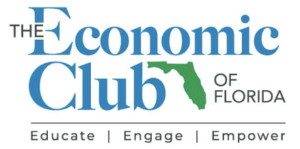 Any technology now vulnerable
Military and corporate cybersecurity risk expert Jonathan Kilpatrick will address Cybersecurity: Hacks, Defenses and Foreign Interference in a speech before the Economic Club of Florida on Wednesday, September 30, from noon to 1pm, at the Governors Club in downtown Tallahassee. The address will also be livestreamed. In 2017, $5 billion was paid in ransom to hackers who held computer systems and data hostage in the U.S. Global cybercrime is projected to be a $6 trillion industry by 2021. Kilpatrick is founder and CEO of Trulight Consulting in Tallahassee and is a cyber systems officer in the Florida Air National Guard.
Mr. Kilpatrick shared this preview of his speech in a recent recorded audio interview with the Economic Club of Florida: https://bit.ly/3cIXwRP. His address will also cover election security and the practical ways we can all prevent, detect, and defend against cyber intrusion.
"It's a quiet threat that's been around longer than the pandemic but is growing in frequency and severity, targeting us at home, at work, and in our government and infrastructure operations and we look forward to hearing how we can fight back," said Club Chairman Cindy O'Connell.
Non-member guests are welcome to attend the livestreamed virtual version of this address by contacting Michael Vincent at 850-906-9226 ext. 108, or by email at [email protected].
MEDIA NOTE: To attend the live virtual webinar version of the September 30 address, please contact Michael Vincent at 850-906-9226 ext. 108, or by email at [email protected] or register HERE.
The Economic Club of Florida is the South's leading forum for speakers of regional and national distinction to discuss the major issues of the day. On the web at www.economic-club.com | @EconClubFL | Facebook.