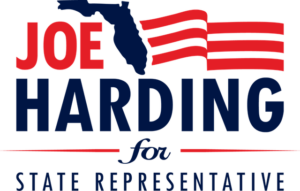 The Marion County Sheriff and community leader cites Harding's
defense of liberty as a significant reason for his support
The Joe Harding for Florida House Campaign today announced the endorsement of Marion County Sheriff Billy Woods. Sheriff Woods joins a long line of law enforcement and first responders in endorsing Harding, including Levy County Sheriff Bobby McCallum, Gilchrist County Sheriff Robert Schultz, the Levy County Firefighters, the Marion County Firefighters, the Professional Firefighters of Ocala, the Gator Fire Council, and the Gainesville Professional Fire Fighters.
"Joe Harding is a leader we can count on to defend liberty," said Marion County Sheriff Billy Woods. "We also know Joe Harding will support our Law Enforcement community and that means a great deal to our leadership, deputies, and staff."
Sheriff Woods was born and raised in Marion County, and spent over 26 years at the Ocala Police Department before his tenure as Sheriff. At Ocala PD, he served as Watch Commander, Lieutenant, Special Operations Supervisor, Traffic Homicide Investigator, and Undercover Officer for the Drug Task Force. During that time he received several accolades, including a Medal of Valor and Medal of Distinction. He is also Chairman of the Florida Sheriffs Youth Ranches Enterprises and Vice Chair of Marion Senior Services. He is a graduate of Columbia Southern University, attended the Florida Department of Law Enforcement Executive Senior Leadership Program, and was the Class President of the Leadership of Ocala/Marion Class XXVII.
"Sheriff Woods is a very well-respected member of Florida's Law Enforcement Community and we're honored to have his endorsement," said Joe Harding. "We look forward to working alongside Sheriff Woods to show strong support for the thin blue line in our community."
About Joe Harding for State Representative
Joe Harding, a conservative Republican and seventh generation Floridian, is a small businessman who was born and raised in Williston. Harding's priorities are ending illegal immigration, outlawing sanctuary cities, and supporting agriculture. Also topping his agenda are defending Second Amendment rights, protecting all human life, and addressing skyrocketing health insurance and prescription drug costs. Harding learned the value of hard work and good stewardship of resources in his large family of eleven children, raised by his pastor father and homeschooling mother. While studying construction management at Florida International University, he worked multiple jobs to support himself, eventually working his way up into demanding project management roles. Currently, he owns and operates a lawn maintenance company and a horse boarding and training facility. Harding and his wife, Amanda, have four children. District 22 includes Levy County and part of Marion County.
ON THE WEB:  www.JoeHarding.net
Paid by Joe Harding, Republican, for State Representative