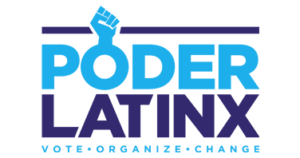 Featuring Latinx Youth Commentators from the Battleground State of Florida
WHAT: As 2020 Vice Presidential candidates Kamala Harris and Mike Pence meet on the debate stage tonight to present their respective visions for the country, Poder Latinx will host a live and interactive Facebook watch party to engage Latinx youth in Central Florida and provide a space for them to share their thoughts, analysis and insights during the historic debate. The virtual event centering young Latinx voices and perspectives will focus discussion on key issues for the Latino community in Florida raised during the debate, including the growing Puerto Rican electorate, and the importance of the Latino vote in this election.
WHO: Hosted by Poder Latinx – Florida Office
Nancy Batista, Florida State Director for Poder Latinx
Ahtziry Barrera – Community leader, DACA recipient, business owner
Jerick Mediavilla – Educator and community activist
Lisa Hernández – Community Organizer
Yaritza Pérez – Community Organizer
WHEN: **TONIGHT** Wednesday, October 7 at 8:30 p.m. ET
WHERE: Livestream via Poder Latinx Facebook Page
KISSIMMEE – Tonight during the vice presidential debate between candidates Kamala Harris and Mike Pence, Poder Latinx will host the Latinx Voices at the VP Debate, a live Facebook watch party and post-debate analysis featuring commentary and participation from young Latinx leaders in Central Florida. Through centering the voices and perspectives of Latinx youth, the virtual event organized by Poder Latinx's Florida office aims to increase youth political engagement and foster meaningful discussion on the platforms and issues presented by both candidates during the debate and their relevance for Latinx families in Central Florida. Leading the discussion will be young Latinx community leaders from the community, including: Lisa Hernández, Jerick Mediavilla, Yaritza Pérez and Ahtziry Barrera.
Nancy Batista, Poder Latinx Florida state director and host of this evening's Facebook watch party, stated: "Florida is a swing state and has one of largest minority voting blocks in the country.  Our vote matters more now than ever. Not only does our future depend on it, but our lives as well.  We need to vote for candidates that align with our values and the issues that affect our most vulnerable communities that are being disproportionately affected with systemic forms of oppression and injustice."
"This is a crucial time for our electorate all across the nation, especially for Latinx and Puerto Rican voters in the swing state of Florida, as their votes will play a large role in determining the outcome of this election. This moment has resulted in an awakening among Latinx voters, particularly among the youth, who have a very clear understanding of what is at stake at the polls and what it takes to build a nation where we can all thrive – not just the privileged.  Conversations like this contribute to the advancement of our political power as a community and our civic involvement in democracy," said Yadira Sánchez, co-executive director of Poder Latinx.
Tonight's event is one of many Poder Latinx has been hosting through its Votar es Poder campaign and ahead of the Nov. 3 election. To learn more, visit www.poderlatinx.org.
Poder Latinx's mission is to build a political wave of voters where the Latinx community, immigrants, and people of color play a key role in the transformation of the country and become decision-makers in our democracy. Through innovative partnerships, issue-based organizing, and leadership development, Poder Latinx is rapidly expanding the U.S electorate with new and low propensity Latinx voters. In its first six months, Poder Latinx registered 30,000 voters, building a foundation poised to create change starting with the 2020 Presidential elections.