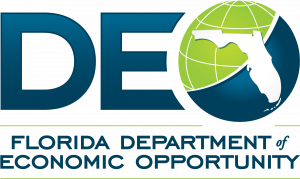 Governor Ron DeSantis and the Florida Department of Economic Opportunity today announced that the Department of Economic Opportunity has awarded more than $2 million in funding for military-related programs through the Defense Reinvestment Grant Program and the Defense Infrastructure Grant Program. These grants provide funding to defense-dependent communities to support economic diversification efforts and military community relations.
"During my time with the Navy, I was able to experience firsthand the tremendous impact a military installation has on its surrounding community," said Governor Ron DeSantis. "I'm proud to provide an opportunity for these organizations to continue to support and enhance the great partnerships Florida's communities have with our military."
"During these unprecedented times, it is imperative that we continue to support Florida's military installations and their surrounding communities," said Dane Eagle, Executive Director of the Department of Economic Opportunity. "Across our state, military installation communities support not only military personnel and their families, but they create jobs and opportunities for many Floridians."
The Defense Reinvestment Grant Program provides support to community-based activities that protect existing military installations. These grants are awarded to applicants that represent a local government with a military installation that could be adversely affected by federal actions.
Communities awarded funding through the Defense Reinvestment Grant Program include:
Bay Defense Alliance – ($90,000) to continue rebuilding efforts from Hurricane Michael and assist Tyndall Air Force Base with community support and partnerships as the base implements new aircraft programs.
City of Jacksonville – ($85,000) to continue efforts to bring ship loading and maintenance plans to Naval Station Mayport and work towards the continued long-term goal of infrastructure funding for the hosting of a nuclear carrier in the Jacksonville region.
Clay County Economic Development Corporation – ($64,500) to develop a new Clay County Economic Development 5-year strategic plan to seek alignment with Clay County, Camp Blanding Joint Training Center, Clay County Development Authority, City of Keystone Heights, Keystone Heights Airport Authority, City of Green Cove Springs, Town of Orange Park, and utility partners to collaboratively grow the non-defense economy.
Economic Development Commission of Florida's Space Coast – ($85,000) to build upon existing programs that enhance strong relationships and partnerships impacting mission expansion from the US Space Force, the 45th Space Wing, Patrick Air Force Base, and Cape Canaveral Air Force Station.
Economic Development Council of Okaloosa County – ($85,000) to continue efforts and strategies to encourage economic diversification through support and partnerships for the community surrounding Eglin Air Force Base through a tri county community partnership and facilitate STEM cluster development opportunities for entrepreneurs, defense contractors, and non-defense STEM sectors.
Greater Pensacola Chamber of Commerce – ($80,000) to expand and create higher skilled jobs and work with those in the military community as they transition to non-defense jobs and continue to support the communities of Naval Air Station Pensacola and Naval Air Station Whiting Field.
Miami Dade Beacon Council – ($75,000) to build on the work conducted under prior-year grants to enhance economic development, identify opportunities for economic diversification, build connectivity and grow the existing defense industry supporting Homestead Air Reserve Base, USCG Base Miami Beach, and future ARFC F-35 basing decisions.
Orlando Economic Partnership – ($78,000) to support Naval Support Activity (NSA) Orlando, a nontraditional military base and home to 14 federal government organizations with activities representing each of the four military branches as well as nine other organizations that are the engine that drives the $6.0 billion Modeling, Simulation, and Training (MS&T) in the state of Florida.
Santa Rosa County Board of Commissioners – ($62,500) to support military community activities surrounding Naval Air Station Whiting Field to both defense and non-defense related industries to continue pursuing corporations to utilize the joint use facilities to result in job creation and local economic diversification in the Panhandle Region.
Tampa Bay Defense Alliance – ($55,000) to help promote, protect and develop initiatives in the area to grow the defense simulation industry in the community surrounding MacDill Air Force Base as well as supporting growth of the Special Operations Technology Industry in the Tampa Bay community.
Walton Co. Chamber of Commerce – ($5,000) to support entrepreneurial growth and veteran support initiatives in Walton County.
The Defense Infrastructure Grant Program supports local infrastructure projects deemed to have an impact on the military value of installations within the state. Infrastructure projects to be funded under this program include those related to encroachment, transportation, and access to military installations, utilities, communications, housing, environment, and security.
Communities awarded funding through the Defense Infrastructure Grant Program include:
Brevard County – ($200,000) to fund 4 projects as part of the complete renovation of the Brevard County Emergency Operations Center.
City of Jacksonville – ($282,500) to jointly acquire restrictive use easements of properties in the Military Influence Zone.
City of Tampa – ($340,000) to develop a new multimodal connection on Manhattan Avenue to include adding left turn lanes for both the eastern and northern legs that will better disperse traffic to provide enhanced access to MacDill Air Force Base.
Escambia County – ($200,000) to continue easement purchases around Pensacola Naval Air Station Whiting Field and to fund an improvement to a traffic signal and purchase a new public information notification system.
Miami-Dade Beacon Council – ($135,000) to develop plans for the creation of a public -private partnership housing project that provides Basic Allowance for Housing (BAH) level affordable housing for service-members and their families near SOUTHCOM headquarters.
Santa Rosa Board of County Commissioners – ($282,500) to continue easement purchases around Pensacola Naval Air Station Whiting Field.
For more information on Military Community programs, please visit FloridaJobs.org/Military-Community-Programs.
About DEO
The Florida Department of Economic Opportunity combines the state's economic, workforce and community development efforts, expediting economic development projects to fuel job creation in competitive communities and promote economic resiliency. For more information, including valuable resources for employers and job seekers, please visit www.FloridaJobs.org.