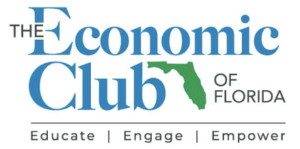 President Donald J. Trump will address The Economic Club of Florida tomorrow, October 14, 2020, at 11am in a virtual livestreaming discussion of economic issues that will feature a gathering of Club members participating in-person via a projection screen system at The Governors Club downtown.
The nonpartisan club is one of six economic clubs in the country participating in this live event, in which both presidential candidates were invited to appear separately to address economic issues of concern in the upcoming November 3 election. Vice President Joe Biden's campaign has not yet confirmed his future appearance. During his 45-minute virtual visit, the President will take questions from the clubs.
Non-member guests are welcome to attend the virtual version of this address by registering at The Economic Club of Florida website at www.economic-club.com. The cost is $75.
"This is a terrific opportunity for our club to develop synergistic opportunities with economic clubs in New York, Chicago, Washington D.C., Pittsburgh, and Sheboygan. We're pleased to be the only club in the southeast to be asked, allowing our members this exclusive opportunity," said Cindy O'Connell, Chair of The Economic Club of Florida.
"It's been our obligation to our members and guests to create virtual and in-person events this year to allow them to choose how they participate and we are happy to be offering this additional event. We remain hopeful that Vice President Biden's schedule will allow him to join us at a later date," said Bill Moor, Club President.
MEDIA NOTE: Credentialed news media are invited to cover this event at The Governors Club in downtown Tallahassee by contacting Harvey Bennett at [email protected] or calling 850-510-7185. All other media are offered free access to watch the President's livestream feed online by registering at https://econclubny.ticketsocket.com/event/president-donald-j-trump-to-address-economic-clubs-live/media-ticket (click the red "Buy Tickets!" button and choose "Media Ticket" option.) Livestreaming of the event by news media or other third parties is strictly prohibited.  A video recording will be available within an hour after the event at    https://www.econclubny.org/web/pages/recent-speakers.
The Economic Club of Florida is the South's leading forum for speakers of regional and national distinction to discuss the major issues of the day. On the web at www.economic-club.com | @EconClubFL | Facebook.