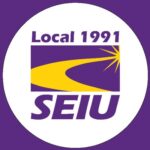 MEDIA ADVISORY
TODAY: Nurses, doctors and health care professionals of SEIU 1991 at Jackson Health to host "SEIU Votes" event to get out the vote in this critical election.
DETAILS:
Who: Nurses, doctors and health care professionals and elected leaders including:
Representative Donna Shalala
Representative Debbie Mucarsel-Powell
Senator Jose Javier Rodriguez
Representative Nick Duran
Commissioner Daniella Levine Cava
Commissioner Eileen Higgins
When: Today, Friday, October 16 at 12:30 pm
Where: SEIU 1991 office at Jackson Hospital, 1601 NW 8th Ave, Miami, FL 33136
RSVP: Rachel Johnson, [email protected]
About SEIU Health Care Local 1991
The mission of SEIU Health Care Local 1991 (SEIU Local 1991), representing the more than 5,000 nurses, physicians and healthcare professionals at Jackson Health System, is to provide the highest quality of patient care to all residents of Miami-Dade. We are a strong union built by strong members, working in close partnership with Jackson management to improve patient outcomes while keeping health care affordable. Through leadership development, our innovative partnership model, and negotiating on behalf of members, we are proud to deliver outstanding health care to all members of our community.