Downtown CREDO of Orlando, Wyatt's Coffee in Gainesville, Kahwa Coffee in Tampa, and 
Bold Bean Coffee Roasters in Jacksonville to participate in voter advocacy initiative on November 3
Farah & Farah, a leading Florida personal injury law firm committed to supporting community and civic activities, is launching  Vote Boldly, an upbeat campaign created to increase and encourage voter engagement on election day in key cities throughout Florida. The acclaimed 40-year-old law firm is teaming up with four local coffee shops to give away $6,500 worth of coffee to help awaken Florida voters to act boldly by casting their vote. 
On Election Day, November 3, Farah & Farah is inviting Floridians to enjoy a free cup of coffee, up to $5, at participating locally-owned and operated coffee shops. All voters have to do is present an "I Voted" sticker or proof that they voted by mail (a photo or verbal commitment is sufficient) to receive a free cup of their choice.
Participating Coffee Shops:
"Voting is our fundamental right and duty as Americans, and this year it's more critical than ever," said Eddie Farah, founder and managing partner at Farah & Farah. "Our firm is committed to civic engagement, and we launched Vote Boldly to help inspire  Floridians to get out and vote. Since local coffee shops are often a cornerstone of any community, we are partnering with some of the best in Florida to reach voters on Election Day."
To learn more about Farah & Farah, visit FarahandFarah.com. To access assets for Vote Boldly, click here.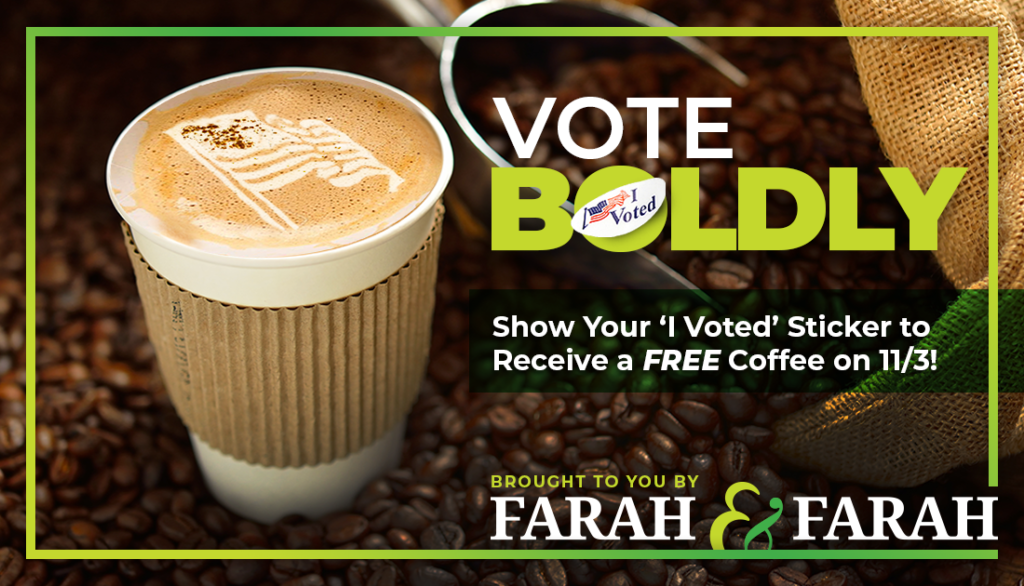 About Farah & Farah
For more than 40 years, a personal injury law firm Farah & Farah has fought insurance companies and corporations to protect the rights of injured people and their families. Farah & Farah has 16 office locations throughout Florida and Georgia, and has made recoveries for its clients in excess of $1 billion. Under the leadership of managing partners brothers Eddie and Chuck Farah, the dedicated team of attorneys and staff prioritizes listening to the needs of clients and treating all clients with dignity and respect. Follow us @farahandfarah (Twitter), @farah_and_farah (Instagram), @FarahAndFarah (FB), Farah & Farah (YouTube), and farahandfarah.com.