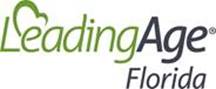 LeadingAge Florida, Florida's only association representing the entire continuum of care for older adults, announced today that Lesley Martin has been hired as the association's Director of Education and Events.
Ms. Martin joins the association from Meeting Expectations where she served as Senior Manager. In her new role, she will be responsible for the development of comprehensive education plans and coordinating all association educational and other events, including the Annual Convention.
"Having served nearly 10 years in various event management capacities, Lesley has the experience necessary to further strengthen and expand our already quality events and educational opportunities," said Steve Bahmer, LeadingAge Florida President and CEO. "She is an invaluable addition to the association and we are thrilled to welcome her to our team."
At the professional services firm Meeting Expectations, Ms. Martin managed the planning, logistics timelines, reports, and budget updates for client events, including large international conventions. Ms. Martin lives in Tarpon Springs, loves spending time at the beach, and enjoys a getaway in the mountains during the winter. She has one son, Cody, who attends the University of South Florida.
For more than 57 years, LeadingAge Florida has been the state's leading advocate for high-quality senior living, aging services and care. We are the only statewide association representing the full continuum of care for seniors. The Association provides up-to-date regulatory information, a wide variety of educational opportunities, representation before the Legislature and government agencies, group purchasing services, and opportunities for networking with peers to help member communities best serve the needs of Florida's senior population.