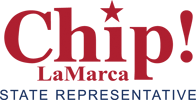 Representative Chip LaMarca issued the below statement following his re-election as state representative for House District 93.
"What started as just me and my wife in our home in Lighthouse Point has grown into a campaign fueled by every resident from every party. The people here in District 93 know what I stand for and know that I get things done. My bipartisan record won over lies and misinformation. The DC insiders threw everything they had at us, but the people had our back.
"We have more to do. Now more than ever, we have to support our small business community so they can create more jobs. We need to keep our beaches and waters clean. We need to keep working together so that more people can access affordable healthcare. We need to address systemic issues with Florida's unemployment system and the broken roads that led us here. And, we must fund our first responders, and ensure that those patrolling our streets are held to the highest standards.
"Eileen and I are honored to have the support of this community. We've worked together to get things done over the past two years, and there's more to come."