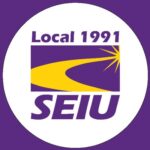 After 20 years of anti-worker mayoral leadership, SEIU Florida members helped turn out voters in record numbers across Miami-Dade to elect working families' ally Daniella Levine Cava as the next and first female Mayor of Miami-Dade County. The seven-figure campaign, held in coalition with Florida for All, focused on turning out Black, Hispanic, and API voters in the county online, at the doors, by text, and on the phones.
Working families won a huge victory by electing a pro-worker, pro-justice, pro-environment, and pro-science Mayor. Miami-Dade has been one of the hardest-hit communities in the U.S. by the coronavirus, and essential workers on the frontlines of this pandemic organized their communities to demand new, accountable, transparent leadership that will fight to protect working people and rebuild a more fair and resilient local economy.
Daniella Levine Cava has fought tirelessly for dignity, equality, and protections for working families over her nearly forty years in public service. As County Commissioner, she led the charge at the County level to provide earned sick leave to employees of County contractors, sponsored legislation to expand the living wage ordinance to more workers, and has fought alongside the labor community on behalf of worker protections at Miami International Airport.
Members of SEIU Florida State Council which includes SEIU Florida Public Services Union, SEIU Committee of Interns and Residents, SEIU 1991, 32BJ SEIU, 1199SEIU United Healthcare Workers East, and, alongside a coalition of labor and community organizations, played a key role in electing Daniella as Mayor. SEIU members are nurses and doctors in Jackson Health System and UM Hospital, airport workers at Miami International Airport, adjunct professors at Miami-Dade College, and nursing home workers and janitors and security guards and other essential workers around the County.
In Miami-Dade County, SEIU members and partner organizations knocked on 278,000 doors and made more than 3.5 million calls as part of the Florida for All Coalition in SEIU's largest-ever voter engagement program to expand the electorate by turning out infrequent Hispanic and Black voters.
Additionally, SEIU 1991, representing over 5,000 nurses, doctors, and health care professionals at Jackson Health System, ran the largest digital program in the organization's history — a "Health Care Heroes" campaign to communicate directly with more than 1.3 million Miami-Dade voters about the importance of voting for leaders who will stand with health care workers.
SEIU 32BJ, representing over 4,000 cleaners, airport workers, security officers, food service workers, and other essential property service workers knocked on over 45,000 doors statewide to get the vote out for Levine Cava, Amendment 2 and other endorsed candidates.
1199SEIU, representing nearly 10,000 registered nurses and healthcare workers at hospitals and nursing homes in Miami-Dade County ran a digital, mail, and texting campaign to turn out healthcare workers for Daniella and other SEIU-endorsed candidates, with member political organizers helping to lead efforts to turn out voters throughout the county.
"Now more than ever, our community needs a fighter willing to stand up for working families who have born the worst of the public health and economic crisis," said Martha Baker, RN, President of SEIU Florida State Council and President of SEIU 1991 at Jackson Health System. "Daniella Levine Cava's life's work in public service proves she is that fighter committed to expanding economic and racial equality and fighting alongside working families in their pursuit of a better life. Our 55,000 members statewide are proud to stand behind her historic campaign and to have worked hard over the last many months to elect Daniella, to build a better future for Miami-Dade residents and all Floridians. We know she is the leader we need to move our community forward through this crisis and protect health care workers and all essential workers as our first Madame Mayor."
"We knocked on tens of thousands of doors and made even more phone calls because Daniella Levine Cava has proven time and time again that she is on the side of working people," said Helene O'Brien, Florida Director for 32BJ SEIU. "From leading the fight to raise the County Living Wage, to demanding that contractors at the Miami International Airport operate in a responsible manner, to fighting for paid sick days for the security officers who guard public spaces and the Metrorail — Daniella has consistently shown up for us. Today we showed up overwhelmingly to elect a leader who will fight to make Miami Dade County a place where all working families can thrive."
"1199SEIU healthcare workers in our hospitals and nursing homes have been fighting on the frontlines of healthcare while working tirelessly to elect candidates like Daniella Levine Cava who will continue leading the fight to raise wages in Miami-Dade County and lift up working people," said Dale Ewart, executive vice president of 1199SEIU United Healthcare Workers East in Florida. "Our caregivers have a true friend in Daniella and we look forward to working with her to protect the health of our communities."
About SEIU Healthcare Florida Local 1991
The mission of SEIU Healthcare Florida Local 1991 (SEIU Local 1991), representing the more than 5,000 nurses, physicians and healthcare professionals at Jackson Health System, is to provide the highest quality of patient care to all residents of Miami-Dade. We are a strong union built by strong members, working in close partnership with Jackson management to improve patient outcomes while keeping health care affordable. Through leadership development, our innovative partnership model, and negotiating on behalf of members, we are proud to deliver outstanding health care to all members of our community.