Darren Evans is also an adjunct professor and
clinical pharmacist at Capital Regional Medical Center
By Heather Johnson 
Darren Evans, PharmD, a second-year student in Florida A&M University (FAMU) School of Allied Health Sciences' Master of Health Administration program, has accepted an administrative fellowship with the Henry Ford Health System in Detroit.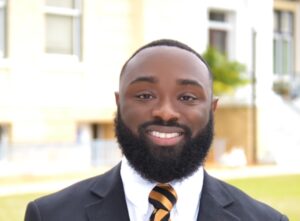 Evans is one of four fellows selected for the 2021-2022 academic year and has been assigned to the Office of the CEO, under the direct preceptorship of Wright Lassiter III, president and chief executive officer of the Henry Ford Health System.
A native of  Bristol, Florida, Evans holds a doctor of pharmacy and a master's in public health from FAMU. He has been an adjunct faculty member in the FAMU College of Pharmacy & Pharmaceutical Sciences, Institute of Public Health since 2017. He also works at Capital Regional Medical Center in Tallahassee as a clinical pharmacist. Evans is scheduled to complete his program at FAMU in August. He will relocate to Detroit for the fellowship next July.
In addition to being selected for this fellowship, Evans was also offered a residency with HCA Healthcare and Baptist Health-South. He said the goal of the fellowship is to diversify his leadership skills beyond the area of pharmacy.
"I felt Henry Ford Health Systems was a better fit for me and my career goals," he said. "Ultimately, I want to run a health care system that includes multiple hospitals."
Founded in 1915 by auto pioneer Henry Ford, Henry Ford Health System is a nonprofit corporation comprised of hospitals, medical centers and the Henry Ford Medical Group—one of the nation's largest group practices which includes more than 1,200 physicians practicing in over 40 specialties.