Director of the Centers for Disease Control and Prevention (CDC) Dr. Robert R. Redfield visited Florida A&M University (FAMU) Monday to discuss the University's response to the global pandemic.
In remarks made during his 70-minute visit, Redfield spoke about the importance of FAMU and other universities, with their population of 18- to 25-year-olds, in helping to curb the pandemic.
"Universities are really key partners in our efforts to combat this epidemic," Redfield told the small gathering that included Florida Surgeon General and Health Secretary Dr. Scott Rivkees, Deputy Health Secretary Shamarial Roberson, D.PH., and University officials.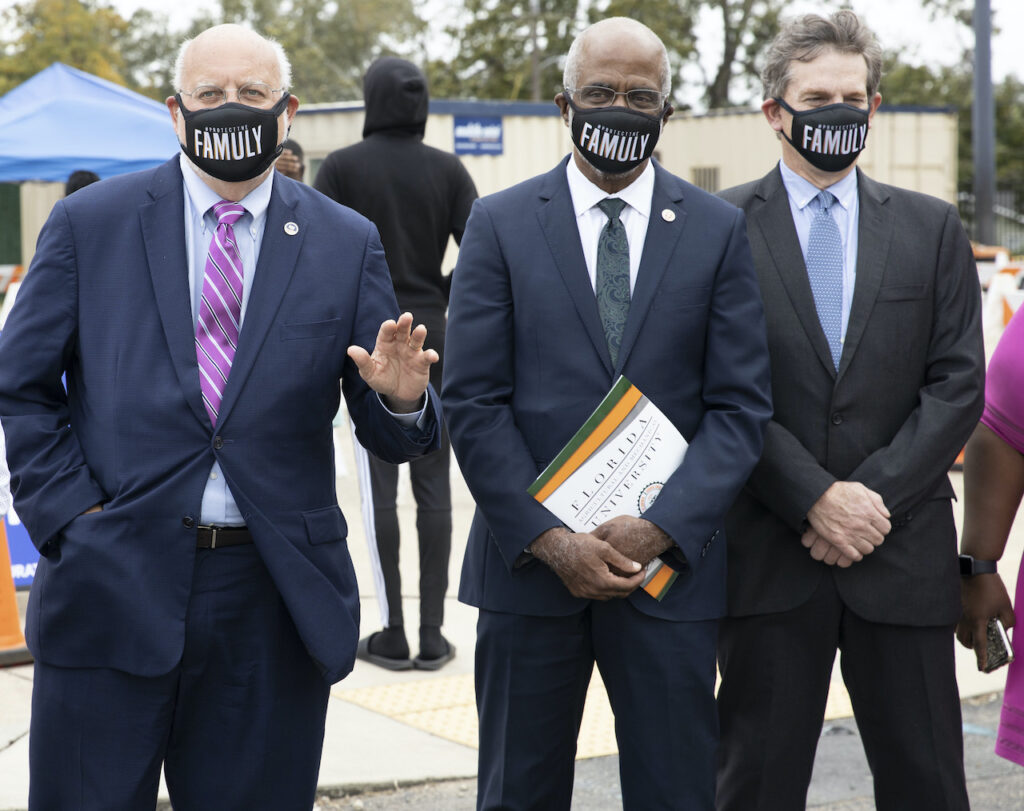 Dr. Robert Redfield (left) FAMU President Larry Robinson, Ph.D., and Florida Surgeon General and Health Secretary Dr. Scott Rivkees at the FAMU Bragg COVID-19 Testing Site Monday, Nov. 9, 2020.
Redfield lauded the University for its efforts in hosting the COVID-19 testing site, which in addition to mitigation measures such as mask-wearing and social distancing and avoiding crowds, are key to slowing the spread of the virus.
"We are going to get through this," Redfield said. "We are people of faith."
Redfield acknowledged the current spike in coronavirus cases around the country at the same time Americans are beginning to contemplate holiday travel plans. The CDC expects to release further messaging, but Redfield also believes universities can make a difference given their experience in protecting students, faculty and staff.
Redfield also welcomed the announcement by the drug maker Pfizer that its COVID-19 vaccine was 90 percent effective. Redfield said FAMU could play a vital role in educating the public about the importance of taking the vaccine.
"I am going to call on you for another important mission. Confront vaccine hesitancy and replace it with vaccine confidence," Redfield said. "People who need it the most must have the confidence. You are a trusted source in the community."
During the event in the Grand Ballroom, University staff briefed Redfield about the re-opening plan, coronavirus-related research, the Bragg Stadium COVID-19 Testing Site, and the impact of the epidemic on the University's bottom-line in terms of lost revenues in housing and meal plans, declines in enrollment and increased expenses for cleaning.
Afterward, the delegation visited the Bragg testing site, which is operated by the Florida Division of Emergency Management and private contractor Curative Inc.
FAMU President Larry Robinson, Ph.D., praised Redfield's visit as an opportunity for constructive dialogue about how best to respond to the unrelenting pandemic.
"It was wonderful to have him on the campus. It was a great exchange," said Robinson, who noted Redfield's awareness of the issue of health disparities and the implications on people of color during the present crisis.
"We have to remain vigilant. We don't want to let our guard down," Robinson said. "We want to see everybody back here for the spring semester. We have lost enough people. We don't need to lose another soul. I am optimistic we will get through this."