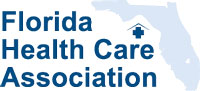 Preventing community spread is key to keeping seniors and caregivers safe. As the holiday season approaches and families come together to celebrate, Florida Health Care Association (FHCA) urges Floridians take every necessary precaution to protect long term care residents and healthcare staff, and minimize the risk of an outbreak in our state's long term care facilities. Florida's long term care centers have made significant progress to reduce the spread of COVID-19, with recent Department of Health data showing that over 99% of long term care residents are COVID-free, with over 98% of staff free from the virus.
"FHCA Executive Director Emmett Reed said, "We understand everyone wants to see their family and friends during the holidays, and we need to consider our parents and grandparents who are living in our state's long term care centers, as well as the caregivers who are working tirelessly every day to keep these residents safe from the virus. Wearing a mask and practicing physical distancing not only protects you, but it is a sign of respect for our elders and our health care heroes who care for them."
Independent research from the country's top academic institutions shows that the rate of spread within a surrounding community is a key factor in the likelihood of an outbreak in a long term care facility. Dr. Tamara Konetzka, a professor of health policy at the University of Chicago explains:
"Trying to protect nursing home residents without controlling community spread is a losing battle … Someone has to care for vulnerable nursing home residents, and those caregivers move in and out of the nursing home daily, providing an easy pathway for the virus to enter."
Dr. David Gifford, chief medical officer for the American Health Care Association and the National Center for Assisted Living (AHCA/NCAL) said, "Even though you may feel fine, more than half of people who have COVID-19 are asymptomatic, and the people you encounter at the Thanksgiving table or out at the grocery store may work in a nursing home or assisted living community."
Governor DeSantis and the Agency for Health Care Administration recently updated the guidance around long term care facility visitation to address holiday leave, noting that residents can leave the facility if they wish to visit with family and friends. Residents and the resident's family are encouraged to follow precautionary measures while out in the community, including social distancing and especially hand washing.
Additionally, the Centers for Disease Control and Prevention (CDC) has issued guidance around hosting or attending holiday gatherings, including:
Checking the COVID-19 infection rates in areas where attendees live on state, local, territorial, or tribal health department websites.
Limiting the number of attendees as much as possible to allow people from different households to remain at least six feet apart at all times.
Hosting outdoor rather than indoor gatherings as much as possible.
Avoiding holding gatherings in crowded, poorly ventilated spaces with persons who are not in your household.
Requiring guests to wear masks.
Encouraging attendees to wash their hands often with soap and water for at least 20 seconds.
Provide guests information about any COVID-19 safety guidelines and steps that will be in place at the gathering to prevent the spread of the virus.
Cleaning and disinfecting commonly touched surfaces and any shared items between use when feasible
Long term care facilities cannot lose the progress we've made to reduce COVID rates. In order to protect vulnerable seniors and long term care staff, members of the public must do their part to keep the virus from spreading. Exercising caution around holiday gatherings is one way Floridians can help our communities stay COVID-free.
ABOUT THE FLORIDA HEALTH CARE ASSOCIATION
The Florida Health Care Association (FHCA) is a federation that serves nearly 1,000 members and represents more than 500 long-term care facilities that provide skilled nursing, post-acute and subacute care, short-term rehab, assisted living, and other services to the elderly and individuals with disabilities in Florida. The mission of FHCA is to advance the quality of services, image, professional development, and financial stability of its members. As Florida's first and largest advocacy organization for long-term care providers and the elderly they serve, the Association has worked diligently since 1954 to assist its members with continuously improving quality of care and quality of life for the state's growing elder care population. For more information about the Florida Health Care Association, visit http://www.fhca.org.