Florida A&M University (FAMU) is among several universities and health care entities from around the state collaborating in a $1 million National Institutes of Health (NIH) grant on community outreach and engagement to ethnic and racial minority communities disproportionately affected by the COVID-19 pandemic.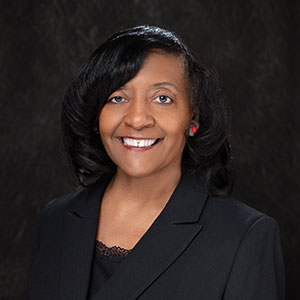 Led by population health experts and physicians with the University of Miami Miller School of Medicine, the effort is titled "Community Engagement Alliance Against COVID-19 Disparities" or the Florida CEAL Team, and includes a group of partner experts at Florida International University, the University of Florida, FAMU, Moffitt Cancer Center and Health Choice Network.
Both the University of Florida and the University of Miami are part of the OneFlorida Clinical Research Consortium, a statewide network of academic health systems, hospitals and clinics established in 2015 to help facilitate and accelerate health research in Florida.
FAMU's project is led by principal investigator Cynthia M. Harris, Ph.D., director of the FAMU Institute of Public Health and associate dean of the FAMU College of Pharmacy & Pharmaceutical Sciences, Institute of Public Health.
In collaboration with UF, FAMU will conduct community outreach and promote community engagement to determine the level of awareness and understanding of COVID-19 in the African American community. University researchers will identify corresponding solutions to increase engagement by utilizing Community Health Workers (CHWs) focusing on African American communities in Leon, Wakulla, Gadsden, and Jefferson counties.
FAMU also will work with communities to understand and promote participation in clinical trials and implement and evaluate the impact of strategies that increase the enrollment of African Americans into COVID-19 vaccine and therapeutic trials, Harris said.
"Given the devastation COVID-19 has caused on African Americans and other communities of color, all of these projects are vital," Harris said. "If we are to end the tragedy of this pandemic, we must be proactive in our outreach and understand the disproportionate challenges faced by communities of color."
Researchers attribute elevated COVID-19 prevalence and mortality rates in underserved communities to structural inequalities and social determinants of health. The statewide CEAL initiative —comprised of several projects led by regional partners—is aimed at devising strategies to counteract misinformation about COVID-19, understanding and overcoming barriers to care, and promoting minority participation in vaccine and therapeutic clinical trials.
"We are privileged to lead a coalition that will address one of our state's most pressing public health concerns," said the project's principal investigator Olveen Carrasquillo, M.D., M.P.H., professor, Department of Medicine and Public Health Sciences, and chief of the Division of General Internal Medicine at UM. "Disparities in COVID-19 infections are a concern, as African-Americans, Hispanics and Native Americans account for more than half of all reported cases in the United States. We want to counteract misinformation about COVID-19, understand barriers to care, and promote minority participation in vaccine and therapeutic clinical trials."
Working with community organizations, the Florida CEAL Team will develop community-based outreach activities aimed at promoting evidence-based COVID health promotion practices and participation in clinical trials. They will also implement and evaluate the impact of strategies that increase the enrollment of minorities into COVID vaccine and therapeutic trials.
"We know that this virus does not discriminate," said Folakemi Odedina, Ph.D., University of Florida joint professor in radiation oncology, pharmacotherapy and translational research and director of the CaRE2 Health Equity Center. "We also know that COVID-19 significantly impacts minority communities. Joining together with our partners around the state to support to some of the hardest hit communities is a crucial step in achieving our common goal of eradicating coronavirus in Black and Latinx communities."
"When the pandemic hit, many of Florida's minority and ethnic communities were already coping with serious health disparities, including higher rates of cancer, obesity, diabetes, hypertension and heart disease," said Elizabeth A. Shenkman, Ph.D., chair of the department of health outcomes and biomedical informatics in the College of Medicine at University of Florida Health, whose expertise includes quality of care and improving health outcomes for Florida's publicly insured residents. "COVID-19 added one more."
Shenkman, who is also the principal investigator of the OneFlorida Clinical Research Consortium, said the statewide network of health systems, hospitals and clinics was able to quickly mobilize to provide outreach and resources for these communities, especially those with limited access to health care services and support for COVID-19.