Florida A&M University (FAMU) has announced alumnus Georgia Congressman David Scott as the speaker for the 2020 Fall Virtual Commencement Ceremony.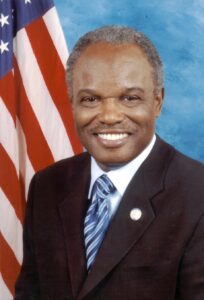 Scott, who was first elected to represent Georgia's 13th Congressional District in 2002, will address more than 600 graduates in the ceremony scheduled for 10 a.m. Saturday, December 12. The event will be shown live on FAMU's YouTube and Facebook pages, as well as the FAMU Mobile App.
"I am so honored to be named the Fall Commencement speaker for Florida A&M University's graduating class of 2020. If not for the world class education I received and the strong relationships I made as a student at FAMU, I would not be serving as a United States congressman today," Scott said. "I am beyond grateful to my alma mater, and I am incredibly humbled to address this year's graduates who will become America's next generation of leaders."
Scott earned a bachelor's degree with honors from FAMU in 1967 before going on to complete his MBA at the University of Pennsylvania Wharton School of Finance two years later.
In Congress, Rep. Scott has been a strong voice for jobs, health care, education, veterans, children, and transportation. He serves on the Financial Services Committee, Agriculture Committee, and the NATO Parliamentary Assembly.
A Democrat, Scott secured $80 million in funding in the 2018 Farm Bill for agriculture-focused scholarships at the 19 Historically Black 1890's Land-Grant Colleges and Universities across the country.
FAMU students have benefitted from that program. The University received federal funds to award scholarships to 70 students so far as part of the 1890 Scholarship Program. The initiative is geared to attract high achieving entering freshmen to pursue and obtain their baccalaureate degrees in food and agricultural sciences from FAMU in four years, and for qualified, transfer students in two years.
"We are honored to have Rep. Scott to address our graduates at this crucial time in our history. Rep. Scott is not just a proud alumnus, he is also an ardent supporter of HBCUs. His work on our behalf will positively impact families and communities for generations to come," said President Larry Robinson, Ph.D.
Scott is also a member of Alpha Phi Alpha Fraternity, Inc., where he was initiated into Beta Nu Chapter, and a member of the 100 Black Men of Atlanta, Inc. A member of the Congressional Black Caucus, Scott received a "Trumpet Award" in 2008, the Urban League's "Congressional Leadership Award" in 2010 and has been recognized by Georgia Trend Magazine as one of the"100 Most Influential Georgians."
He and his wife, Alfredia Aaron Scott, also a FAMU alumna, have two daughters and two grandchildren.