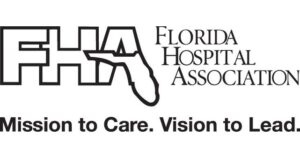 Your Health Matters encourages Floridians not to delay essential health care
The Florida Hospital Association (FHA) today launched "Your Health Matters", a multimedia campaign to increase public awareness about the importance of returning to regular healthcare checkups and screenings and scheduling critical healthcare procedures. The media effort also provides information about the safe environment within hospitals to guard against exposure to COVID.
The campaign launched in Tallahassee and Pensacola with cable television, radio, print and digital ads before expanding to other major metro markets, including Tampa, Fort Myers, Gainesville, Jacksonville, Miami, and Orlando.
"The goal of Your Health Matters is to remind Floridians of all ages that even though we are in the middle of a pandemic, check-ups, screenings, and critical procedures all remain integral to good health," said Mary Mayhew, president and CEO, FHA. "We're concerned that Floridians are foregoing and delaying essential health care and risking their health as a result."
"At Tallahassee Memorial HealthCare, we remain focused on keeping our patients safe, from our outpatient clinics to our inpatient nursing units, with the latest technology and safety protocols," explained Mark O'Bryant, president & CEO at Tallahassee Memorial HealthCare. "The health of our patients is too important to delay medical care."
"Both mental health and physical health are impacted by both the pandemic, and the social isolation that accompanies it. FHA is providing a vital service to the state by reminding people to attend to the health of their bodies and the health of their minds," said Jay Reeve, president and CEO of Apalachee Center, the largest provider of behavioral health services in Florida's Big Bend region.
"Jackson Hospital, Chipola Surgical & Medical Specialties, and Chipola Quick Care remain committed to the health and safety of our patients. We urge our community to not ignore their health. Our facilities are following all CDC guidelines as well as intense cleaning and disinfecting of all facilities," said Jim Platt, CEO, Jackson Hospital. "If you are not feeling well or if you require a check- up or screening, I urge you to contact your Primary Care Provider, Jackson Hospital Emergency Department or Chipola Quick Care."
Fear of COVID-19 caused dramatic reductions in health care use. Patients have started slowly resuming medical care, but levels remain well below those of last year. The Health Care Cost Institute found that mammograms and pap smears were down nearly 80 percent in April 2020 compared to 2019, and in August were still down roughly 20 and 10 percent from 2019, respectively. Colonoscopies were down almost 90 percent in mid-April 2020 compared to 2019, and as of August 2020 were still down about 30 percent compared to last year. Emergency department utilization for serious medical emergencies is also down. In the 10 weeks after COVID-19 was declared a national emergency, emergency room visits declined 23 percent for heart attack, 20 percent for stroke, and 10 percent for hyperglycemic crisis, according to the U.S. Centers for Disease Control and Prevention. Some parents have also delayed their children's pediatrician visits, well-child physicals and routine immunizations such as MMR and Tdap.
"Hospitals are safe, prepared, and ready to care for all Floridians," said Mayhew. "They have robust infectious disease protocols in place to protect all patients and their families to ensure timely access to all healthcare services."
This week, FHA also announced a partnership with the Florida Medical Association and Florida Blue encouraging Floridians to get vaccinated for the flu. Read more here.
Founded in 1927, the Florida Hospital Association (FHA) comprises over 200 hospitals and health systems from across the state. Through representation and advocacy, education and informational services, we support the mission of our members to provide the highest quality of care to the patients we serve. The association is governed by a Board of Trustees and officers elected by the member institutions. For more information, visit www.fha.org.