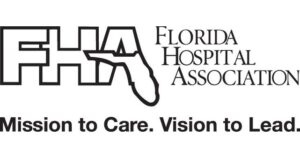 WHAT THEY ARE SAYING
Florida Hospital Association (FHA) President and CEO Mary Mayhew met with hospital leaders this week in the Big Bend and Panhandle area to discuss regional health care priorities and the latest information on COVID-19 case trends and preparation for vaccine distribution. This was the fourth roundtable in a series of meetings Mayhew is hosting across the state.
"Today's discussion served as an opportunity for health systems across the Big Bend to collaborate and share best practices on this area's health care priorities – from access to care in rural communities to mental health and substance abuse prevention," said Mayhew. "Hospital teams throughout this region are continuing to respond to the COVID-19 crisis while preparing for the distribution of the COVID-19 vaccine and ensuring frontline workers and our most vulnerable are prioritized in the early days of its distribution."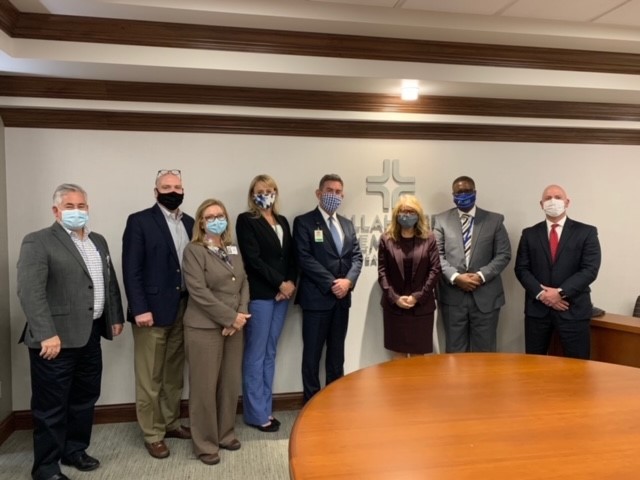 Pictured Left to Right

Tony Bennett, Chief Executive Officer of Encompass Health of Panama City, Mark O'Bryant, Tallahassee Memorial HealthCare President & CEO, Christina Jepsen, CEO of Calhoun Liberty Hospital, Lauren Faison-Clark, Doctors Memorial Perry Interim CEO, Dr. Jay Reeve Ph.D., President & CEO of Apalachee Center, Inc., Mary Mayhew, Florida Hospital Association President and CEO, David Walker, CEO of Weems Memorial Hospital, and Kenneth "Dale" Neely, CEO of Encompass Health Tallahassee
"We are so fortunate to have Mary's refreshing, visionary leadership at the Florida Hospital Association, especially during these challenging times," said Mark O'Bryant, President & CEO of Tallahassee Memorial HealthCare. "Her CEO roundtable represents her ability to bring regional leaders together and showcases her engaging, collaborative approach."
"I certainly appreciated the opportunity to hear directly from President Mayhew, and have her hear from us as well. I feel like FHA has made an excellent choice by recruiting Mary Mayhew into this role at this very critical moment in our lives," said Tony Bennett, CEO of Encompass Health Rehabilitation Hospital of Panama City. "I am confident from the message we heard and the actions that are being taken by her and the FHA that lives will be saved in this unprecedented time."
"I would like to thank Mary Mayhew for coordinating this great opportunity. It has allowed us to gain perspective on how our neighboring communities are weathering the challenges of medical care during this pandemic," said Weems Memorial CEO David Walker. "I was pleased to learn that Weems is on par with other larger hospitals in terms of the quality care we provide and I feel we will be prepared to successfully launch the vaccine distribution in our community once it becomes available," Walker said.
"Being able to provide input into the FHA's areas of focus will ensure that our collective priorities are addressed in an effective way," said Lauren Faison-Clark, Interim CEO of Doctors Memorial Perry. "I was so encouraged to hear the universal support for the ongoing use of telemedicine and other technologies that have become the lifeline for rural communities and healthcare providers. We must continue to provide efficient and effective mechanisms for patients to access care when and where it is needed. This vital technology has allowed us to become a more connected healthcare system by collaborating and sharing resources. I look forward to working with the FHA and their leadership on critical issues and solutions that will allow us to continue to care for our communities."
"With the challenges of the pandemic and widespread anxiety about both health and economic issues, behavioral healthcare has never been more integral to the overall healthcare system, especially in rural areas," said Dr. Jay Reeve Ph.D., President & CEO of Apalachee Center, Inc. "FHA President Mary Mayhew understands that better than most, and I look forward to continuing to work with her and the Association to ensure that our system of behavioral healthcare is accessible, effective and embedded within the larger healthcare system. I'm very optimistic about FHA's leadership in this area."
"I have recently relocated to Florida and found it refreshing and reassuring to know that the president and CEO of the hospital association, Mary Mayhew, is not only approachable but also concerned and active in our day-to-day struggles," said Christina Jepsen, CEO of Calhoun-Liberty Hospital. "I appreciate the time Ms. Mayhew and the FHA took to bring the group together to discuss the next steps for our hospitals in combating COVID-19 and for relaying progress on other key healthcare initiatives."
Founded in 1927, the Florida Hospital Association (FHA) comprises over 200 hospitals and health systems from across the state. Through representation and advocacy, education and informational services, we support the mission of our members to provide the highest quality of care to the patients we serve. The association is governed by a Board of Trustees and officers elected by the member institutions. For more information, visit www.fha.org.