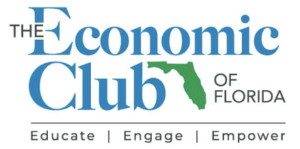 Schools a path to Florida's economic recovery
Madeline Pumariega, incoming President of Miami Dade College, will address The Role of Higher Education in Economic Recovery in a speech before the Economic Club of Florida tomorrow, Wednesday December 16, from noon to 1pm at the Governors Club in downtown Tallahassee. The address will also be livestreamed. Pumariega will discuss the importance of higher education in Florida, the role that it plays in economic development, and how it has been impacted by the COVID-19 pandemic.
Pumariega is finishing her service this month as executive vice president and provost of Tallahassee Community College. She previously served as chancellor of the Florida College System, comprised of 28 colleges with nearly 800,000 students. Pumariega is a product of the college system herself, having begun her academic career as a student at Miami Dade College and later returning as an administrator and a campus president. Today, she's still learning, pursuing a doctoral degree in higher education from Barry University.
"With the economic challenges of the coronavirus pandemic and the changing landscape of our state's employment sectors, we look forward to hearing from President Pumariega about how our colleges' workforce-oriented programs can help in accelerating Florida's economic recovery," said Club President Bill Moor.
"Madeline is uniquely qualified to share current workforce insights with the Club. From her service on statewide and local boards that help transform communities to her own career focusing on helping disadvantaged young residents realize their full potential so that Florida's economy can reach its full potential, too – she gets it," said Club Chair Cynthia O'Connell.
Non-member guests are welcome to attend this virtual livestreamed address by contacting Michael Vincent at 850-906-9226 ext. 108, or by email at [email protected] .
MEDIA NOTE: Media are welcome to attend the in-person or livestreamed address. To attend the live virtual address, please contact Michael Vincent at 850-906-9226 ext. 108, or by email at [email protected]
The Economic Club of Florida is the South's leading forum for speakers of regional and national distinction to discuss the major issues of the day. On the web at www.economic-club.com | @EconClubFL | Facebook.