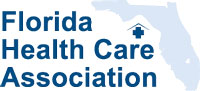 Florida Health Care Association Executive Director Emmett Reed today issued the following statement regarding residents and staff of Florida's long term care facilities receiving the much-anticipated COVID vaccine. FHCA represents nearly 700 nursing centers and assisted living facilities that provide care to approximately 80,000 long term care residents each year.
"On behalf of the long term care community, we applaud the Governor for his continued leadership throughout this pandemic and providing this first sign of light at the end of the tunnel.
Residents, family members, and staff at our long term care centers have borne the brunt of this pandemic, and we are elated at finally being able to take the first significant step toward normalcy. Florida's elderly population is especially vulnerable, and the delivery of a safe and effective vaccine can't come soon enough to help us save lives.
Together with the Department of Health and local health departments, the Division of Emergency Management, Florida National Guard and our pharmacy partners – CVS and Walgreens – long term care providers are working fervently to ensure that as many people as possible are vaccinated in our care centers. Our priority remains, as always, to keep our state's frail elders and the heroes who care for them safe and protected from this virus."
For more information, please visit  FHCA.org.