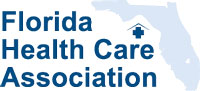 Like so many Floridians across our state, the Florida Health Care Association is deeply thankful for the arrival of the much-anticipated COVID-19 vaccine. We applaud the Governor and his administration for placing a top priority on the vaccine's distribution to long term care residents. Our state's elderly population is particularly vulnerable to the virus, and the vaccine provides us with an opportunity to help save more lives by stopping its spread.
Our first priority, as always, is to keep Florida's elders and the heroic staff members who care for them safe from COVID-19. The vaccine is a significant step in protecting them and returning to a sense of normalcy, and long term care providers are actively working to help ensure that the vaccine is administered to their residents as quickly and effectively as possible.
Vaccinations administered by the Florida Department of Health and Florida National Guard began in Broward and Pinellas Counties on Wednesday, and Walgreens began vaccinating residents and staff in Duval County today as part of the CDC Pharmacy Partnership for Long Term Care.
While this is an ever-changing, unprecedented situation, we will continue to keep you informed. We are pleased to share recent media coverage and some images of FHCA members providing their residents with safety and hope through some of the first long term care vaccination clinics in Florida.
---
Bay News 9: COVID Vaccine Strike Teams at Pinellas County Nursing Homes
…Palm Garden of Largo was one of the first nursing homes in Pinellas County to participate. Vice President Luke Neumann said a so-called strike team arrived just before 9am on Wednesday. "It was like welcoming conquering heroes…
WBUR Here and Now: Florida Starts Vaccinating Nursing Home, Long-Term Care Residents
Florida is one of the first states to start vaccinating residents of long-term care facilities and nursing homes. Karen Barker Robbins, vice president of Clinical Service for Orchid Cove, which operates several skilled nursing homes across Florida, explains how the rollout is going so far.
WJXT News4JAX: DeSantis: Vaccine headed to Jacksonville's long-term care facilities early
…facilities across the state signed up to receive vaccines, according to the Communications Director of Florida Health Care Association Kristen Knapp. The vaccinations will be done through COVID-19 immunization clinics, set up on-site at each facility where a team of Department of Health or pharmacy representatives will manage the immunization process. Residents and staff are required to fill out consent forms.
FOX 35 Orlando: Nursing home residents say vaccine is best Christmas gift
Some nursing home residents can't wait to receive the vaccine. FOX35 was invited into one senior living facility for an exclusive look at how it will change the lives of many, as they ready to distribute it. Jeanne Fortier lives at Harborchase, a nursing home in Dr. Phillips. She may be 86 years old, but this year she feels like a kid at Christmas, "I'm excited, the only thing I want for Christmas is a vaccine!"
Associated Press: Florida rolls out COVID-19 vaccinations in nursing homes
Nursing homes around Florida began inoculating patients and staff Wednesday against COVID-19 with doses of the first U.S.-approved vaccine against the disease
New York Times: Nursing Homes, Ravaged by Covid-19, Start Vaccinating the Most Vulnerable
Florida will distribute about 21,450 doses of the vaccines to nursing homes this week to get a jump start on those vaccinations, which are expected to begin Wednesday or Thursday.Florida will distribute about 21,450 doses of the vaccines to nursing homes this week to get a jump start on those vaccinations, which are expected to begin Wednesday or Thursday. "The governor has a goal to get all long-term residents vaccinated by the end of the year," said Kristen Knapp, a spokeswoman for the Florida Health Care Association, a trade organization representing nursing homes. "We are all trying to meet that goal."
---
ABOUT THE FLORIDA HEALTH CARE ASSOCIATION
The Florida Health Care Association (FHCA) is a federation that serves nearly 1,000 members and represents more than 500 long-term care facilities that provide skilled nursing, post-acute and subacute care, short-term rehab, assisted living, and other services to the elderly and individuals with disabilities in Florida. The mission of FHCA is to advance the quality of services, image, professional development, and financial stability of its members. As Florida's first and largest advocacy organization for long-term care providers and the elderly they serve, the Association has worked diligently since 1954 to assist its members with continuously improving quality of care and quality of life for the state's growing elder care population. For more information about the Florida Health Care Association, visit http://www.fhca.org.