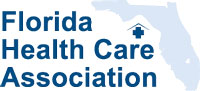 Florida Health Care Association, representing nearly 700 nursing homes and assisted living facilities across Florida, is providing an update on the COVID-19 vaccination clinics well underway in Florida nursing centers.
The following statement is attributed to Emmett Reed, FHCA Executive Director:
"Florida's nursing centers are engaged in a monumental, unprecedented effort to vaccinate thousands of our state's vulnerable seniors and their caregivers, as well as ancillary staff in the facilities including those taking X-rays, providing dental services or other one-on-one care to the residents. As far back as December 16, nursing centers in Broward and Pinellas counties partnered with their local health departments and the Florida National Guard to begin administering vaccines to long term care residents and staff, and centers outside those counties are in the midst of the CVS and Walgreens Pharmacy partnership program, which on December 18, began providing long term care residents and staff their first dose. Six South Florida facilities also received the Moderna vaccine just prior to the holidays, and their clinical teams directly administered the vaccines to residents and staff. As always, FHCA appreciates Governor DeSantis for his leadership in making our long term care residents and staff a priority for vaccine distribution and supporting our healthcare heroes in the continuous battle against COVID-19."
"FHCA continues to assist the limited number of member providers who come to us looking for assistance or clarity, but the overwhelming majority of nursing home providers tell us their clinics have been scheduled or have already occurred and that the program is running smoothly overall. A number are preparing for their second dose clinics, which are set to begin in some care centers this week. CVS, which has partnerships with 484 Florida skilled nursing centers (66%), recently issued national and state-level vaccination figures here, noting that 320 skilled nursing center clinics had completed their first doses through January 5, with the remainder scheduled to take place in the next 7 days."
"Our primary focus at this moment is overcoming vaccine hesitancy. Willingness among residents and staff is varying widely, but in general, staff seem to be mirroring the general public's reaction: excitement mixed with hesitation about the vaccines' development and safety. We are sharing resources in coordination with the #GetVaccinated campaign of our national affiliate – American Health Care Association/National Center for Assisted Living – to encourage all long term care residents, families, and staff members to consent to the vaccine and to provide them with credible information to help inform their decision. We call on public health officials, social media companies, and members of the media to continue helping with this effort so, together, we can combat any misinformation about the vaccine."
ABOUT THE FLORIDA HEALTH CARE ASSOCIATION
The Florida Health Care Association (FHCA) is a federation that serves nearly 1,000 members and represents more than 500 long-term care facilities that provide skilled nursing, post-acute and subacute care, short-term rehab, assisted living, and other services to the elderly and individuals with disabilities in Florida. The mission of FHCA is to advance the quality of services, image, professional development, and financial stability of its members. As Florida's first and largest advocacy organization for long-term care providers and the elderly they serve, the Association has worked diligently since 1954 to assist its members with continuously improving quality of care and quality of life for the state's growing elder care population. For more information about the Florida Health Care Association, visit http://www.fhca.org.