Florida A&M University (FAMU) alumnus and Florida State Senator Bobby Powell, Jr. will be the keynote speaker for the 2021 Rev. Dr. Martin Luther King Jr. Virtual Convocation.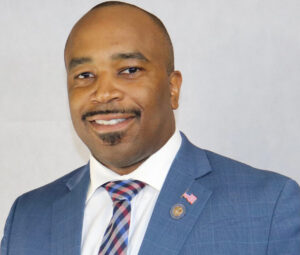 The event will be broadcast on FAMU TV 20 and on the FAMU Facebook and YouTube channels at 10:10 a.m. Friday,January 15.
FAMU President Larry Robinson, Ph.D., said the MLK Convocation is a celebration of Dr. King's legacy and much more.
"This is an occasion for us to remember the struggle for civil rights and the sacrifices made by Dr. King and others, and commit ourselves to a new future," Robinson said. "The events of this week in our nation's capital and the past year around the nation remind us that indeed the "struggle continues" and our work is far from over. As a graduate of the "College of Love and Charity," I am certain Senator Powell will deliver a powerful message consistent this year's theme, The Urgency of Creating the Beloved Community!."
A Palm Beach County Democrat, Powell is the minority leader pro tempore. He serves on the Senate Appropriations, Commerce and Tourism, Community Affairs, Criminal Justice and Rules committees.
Powell served in the House of Representatives from 2012 to 2016, when he was elected to represent the Senate 30th District. He graduated from FAMU in 2003 with a bachelor's degree in public relations. Three years later, he earned a master's in urban and regional planning at Florida State University.
"I count it both a privilege and an honor to be selected as the 2021 Rev. Dr. ​Martin Luther King Jr. Convocation speaker.  Nearly 20 years ago, I received the honor of acceptance into the preeminent Historically Black College and University in the state of Florida, Florida A&M University," Powell said.  "As a distinguished alumnus of FAMU and a state senator who visits Tallahassee often, it is always a joy to return to my roots on the highest of seven hills. Today, this joy is doubled by the honor you have bestowed upon me."