Florida A&M University (FAMU) alumnus State Senator Bobby Powell, Jr. delivered a message of reassurance for troubled times during his keynote address for the University's Dr. Martin Luther King Jr. Virtual Convocation Friday.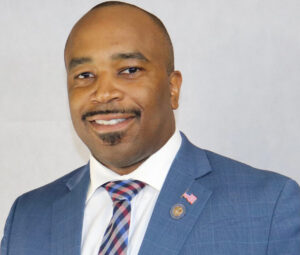 "It's an amazing time. It's also an uncertain time. Although it's an uncertain time, it's time to address some of the issues that we're seeing today, not only COVID-19 but also the uncertain times related to the political climate," said Powell.
The Senate minority pro tempore and chair of the Legislative Black Caucus reminded the audience "We gon' be alright" as invoked the words of Dr. King who spoke about the two Americas, one of affluence of opportunity, the other impoverished.
Powell also recalled the words of his ailing mother and FAMU professors and mentors who planted the seeds of political activism and participation when he was a journalism student and athlete. Their investment in him places a huge responsibility on his shoulders, Powell said.
"I stand before you understanding my charge at the part of the FAMU universe, understanding that it's my responsibility to make sure that every year when we do that $90 billion budget that we fight for appropriations for the University," Powell, who cited the Legislature's funding of the recently opened Center for Access and Student Success (CASS) building.
"It's my duty to make sure that I return to the University to speak life into the students to remind the faculty and staff, that they are the ones who pushed us into this future that we're able to be the ones that will fight for that next generation," said Powell, who presents the 30th District in Palm Beach County. "It is my responsibility for my district to make sure when I see a young man being oppressed by court system where he misses jury duty and he is sentenced to jail time that I stand in the gap and I continue to fight. It is my responsibility, it's my charge to make sure that I live a life of service to my community."
In introducing Powell, FAMU President Larry Robinson, Ph.D., praised his legislative work and highlighted other FAMU alumni in leadership roles for the 2021 Legislative Session. Those include House Minority Leader Pro Tempore Rep. Kamia Brown of Ocoee and Minority Whip Rep. Ramon Alexander of Tallahassee. Other members of the Rattler Legislative Caucus are Senator Shevrin Jones of Broward/Miami-Dade County and Rep. Travaris McCurdy of Orlando.
During the virtual event, President Robinson presented leadership awards to five students for "providing outstanding leadership in uncertain times."
Receiving awards were Student Government President Xavier McClinton, of Brunswick, Georgia, and SGA Vice President Carrington McKenzie Whigham of Dallas, Texas; Miss FAMU Erika Johnson of Dallas; Mr. FAMU Kimani Jackson of Brooklyn, New York; and football player Blake Simpson of Alpharetta, Georgia, who led a protest march for justice to the State Capitol last August.