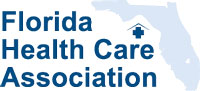 Florida Health Care Association, representing nearly 700 nursing homes and assisted living facilities across Florida, joined Florida's Chief Financial Officer (CFO) Jimmy Patronis yesterday as part of his "Supporting Our Healthcare Heroes" COVID-19 Liability Tour in Ft. Myers to advocate for vital COVID-19 liability protections for Florida's health care workers and long-term care personnel during the upcoming legislative session. CFO Patronis was joined by state leaders, lawmakers, frontline caregivers and representatives from FHCA, Florida Hospital Association, Florida Medical Association and Safety Net Hospital Alliance of Florida.
"Since the pandemic began, our state's health care and long-term care personnel have been on the frontlines, fighting to protect Floridians, especially our state's most vulnerable population – our seniors. These frontline heroes have been working long hours and maintaining stringent health safety processes to protect our seniors," said CFO Jimmy Patronis." They have fought through PPE shortages, and put their own lives on the line to protect our friends, family and loved ones from this serious virus. That is why we must step up and protect them as they have worked to protect us."
FHCA is advocating for COVID-19 liability protections for long term care to ensure providers can continue to operate and recover from the pandemic and keep their resources focused on resident care needs. Without protections, providers worry the liability risks will divert precious resources from resident care and send a dangerous message to the health care heroes on the front lines – that the clinical, life-saving decisions they made to safeguard residents will be used against them.
Emmett Reed, Florida Health Care Association Executive Director said, "Our healthcare heroes on the frontlines showed up every day, putting themselves in harm's way to protect their residents. We applaud CFO Patronis for recognizing the need for liability protections for our long term care centers. Our heroic caregivers should be able to do their jobs without the fear of being sued for doing the best they can under challenging circumstances."
As part of the event, CFO Jimmy Patronis profiled long term caregivers on the frontlines, including Deborah McKinsey, the lead nurse in Port Charlotte Rehabilitation Center's COVID isolation unit, which has helped over 300 patients safely recover from the virus and return home.
On Friday, CFO Jimmy Patronis will join healthcare professionals and association representatives at Miami Jewish Health PACE Center in Miramar to continue emphasizing the need to protect healthcare providers from excessive lawsuits. Frontline caregivers from Miami Jewish Health, including clinical nurse manager Mireya Triana, who recovered from the virus and continues to show up daily to protect her residents, will be on hand to stand in support of this important issue.
"Our employees have gone above and beyond during the COVID-19 pandemic. They are true healthcare heroes –  showing up every day to care for those we serve, despite worrying about their health and the health of their families. It is our responsibility to eliminate any concerns about liability so our caregivers can continue to focus on what they do best," said Jeffrey Freimark, President & Chief Executive Officer, Miami Jewish Health.
Hear what CFO Jimmy Patronis and others are saying about the importance of COVID-19 liability protections by watching the highlight video below.
To watch the CFO Supporting Healthcare Heroes COVID-19 Liability Event on Friday, tune into the FHCA Facebook Page for a Live event at 11:00 a.m. EST.
ABOUT THE FLORIDA HEALTH CARE ASSOCIATION
The Florida Health Care Association (FHCA) is a federation that serves nearly 1,000 members and represents more than 500 long-term care facilities that provide skilled nursing, post-acute and subacute care, short-term rehab, assisted living, and other services to the elderly and individuals with disabilities in Florida. The mission of FHCA is to advance the quality of services, image, professional development, and financial stability of its members. As Florida's first and largest advocacy organization for long-term care providers and the elderly they serve, the Association has worked diligently since 1954 to assist its members with continuously improving quality of care and quality of life for the state's growing elder care population. For more information about the Florida Health Care Association, visit
http://www.fhca.org
.
ABOUT CFO JIMMY PATRONIS
Chief Financial Officer and State Fire Marshal Jimmy Patronis is a statewide elected official and a member of Florida's Cabinet who oversees the Department of Financial Services. CFO Patronis works each day to fight insurance fraud, support Florida's firefighters, and ensure the state's finances are stable to support economic growth in the state. Follow the activities of the Department on Facebook (FLDFS) and Twitter (@FLDFS).