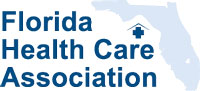 FHCA Executive Director Emmett Reed today joined Governor Ron DeSantis in a press conference in Jacksonville to discuss vaccinations in our state's long term care facilities.
Reed applauded the Governor's leadership throughout the pandemic and thanked him for putting long term care first in line when it came to vaccine distribution.
"Florida Health Care Association is so grateful to Governor DeSantis for his continued efforts to make our long term care residents and staff a priority throughout this entire crisis, most recently by ensuring that our seniors and our health care heroes are vaccinated against COVID-19. After an extraordinarily challenging year, today over 97% of our residents and 98% of our staff remain COVID–free, and we continue to make their health and safety our priority.
Vaccine distribution is bringing hope and joy for our residents, their families, and our caregivers and brings the long term care community one step closer to defeating the virus. I am pleased to say that first doses have been completed, and second dose clinics in our state's 700 nursing centers are now underway. Florida's more than 3,100 assisted living facilities are also getting their vaccine clinics scheduled.
This vaccine represents the light at the end of a very dark tunnel for our residents and the health care heroes who care for them. We are all focused on encouraging as many people as possible to take the vaccine. We also know that we need to continue being vigilant until there are widespread vaccinations, not just within the long term care community but throughout Florida."
Watch a video highlight from the press event below.
ABOUT THE FLORIDA HEALTH CARE ASSOCIATION
The Florida Health Care Association (FHCA) is a federation that serves nearly 1,000 members and represents more than 500 long-term care facilities that provide skilled nursing, post-acute and subacute care, short-term rehab, assisted living, and other services to the elderly and individuals with disabilities in Florida. The mission of FHCA is to advance the quality of services, image, professional development, and financial stability of its members. As Florida's first and largest advocacy organization for long-term care providers and the elderly they serve, the Association has worked diligently since 1954 to assist its members with continuously improving quality of care and quality of life for the state's growing elder care population. For more information about the Florida Health Care Association, visit http://www.fhca.org.