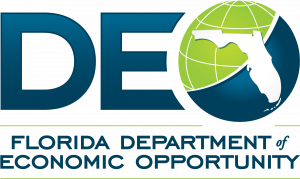 The Florida Department of Economic Opportunity (DEO) Executive Director Dane Eagle today released the following statement in support of Governor Ron DeSantis' 2021-2022 budget recommendations:
"Governor DeSantis continues to prioritize our state's critical economic and community development initiatives by bolstering Florida's workforce and ensuring Florida communities have the resources necessary to be more resilient to future storms."
"Given the impacts of the COVID-19 Pandemic, Governor DeSantis' trajectory for economic development and growth has assisted our state with rebounding much sooner than other states in the nation. Governor DeSantis has kept Florida open for business, leading to eight consecutive months of job growth as we continue to outpace the nation and surpass other state's performance in their economic recovery."
"Governor DeSantis has remained committed to providing the Department with resources needed to reinforce the state's unemployment system so eligible Floridians can receive the Reemployment Assistance benefits they are owed as quickly as possible."
"Governor DeSantis has also prioritized the state's commitment of providing long-term disaster recovery solutions and mitigation measures for communities and Floridians impacted by recent storms, so they can become more resilient to future disasters."
"My dedicated team at DEO works every day to support Governor DeSantis' mission impacting Florida communities and the Floridians that live and work in them."
"I am proud to stand with Governor DeSantis and support his recommendations for the 2021-2022 budget, and I applaud his commitment to adopt innovative solutions to benefit all Floridians."
About DEO
The Florida Department of Economic Opportunity combines the state's economic, workforce and community development efforts, expediting economic development projects to fuel job creation in competitive communities and promote economic resiliency. For more information, including valuable resources for employers and job seekers, please visit www.FloridaJobs.org.