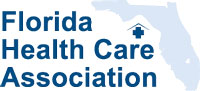 Senator Jeff Brandes (R-St. Petersburg) today joined Chief Financial Officer Jimmy Patronis, as well as representatives of the Florida Health Care Association, Florida Hospital Association, Florida Medical Association, the Safety Net Hospital Alliance of Florida, and the Florida Chamber of Commerce, to advocate for liability protections for health care professionals, saying proposed legislation is essential to keep resources available for the health care heroes who work tirelessly to keep the public well.
During the event at Centre Pointe Health & Rehabilitation in Tallahassee, industry leaders emphasized that health care professionals have faced numerous, unprecedented challenges throughout the pandemic while trying to protect their residents and patients, many of whom are especially vulnerable to COVID-19.
"Health care heroes put themselves in harm's way to serve others, and they need to be able to focus on this all-important job –- not worrying about being sued for providing unwavering care to others under extraordinarily difficult circumstances," Sen. Brandes said. "I look forward to working with my colleagues in the Legislature to craft a liability package that protects these frontline heroes for the sacrifices they continue to make for the health of our citizens."
CFO Jimmy Patronis said, "I was honored to join Senator Brandes today to advocate for vital COVID-19 liability protections for Florida's health care workers. Since the pandemic began, our state's health care and long-term care personnel have been on the frontlines, fighting to protect Floridians, especially our state's most vulnerable population – our seniors. My top priority this legislative session is to encourage Legislators to pass meaningful liability protections that includes our health care and long-term care communities, and I look forward to working alongside Senator Brandes on this critical issue."
Florida Health Care Association CEO/Executive Director Emmett Reed said, "Our long term care heroes are working tirelessly to care for their residents, who are especially vulnerable to COVID-19, and they deserve our support. We appreciate Senator Brandes and CFO Patronis for recognizing the importance of legal protections for our long term caregivers. Without it, we're sending a dangerous message to our frontline heroes that the life-saving decisions they made to safeguard residents will be used against them."
Florida Hospital Association President & CEO Mary Mayhew said, "The heroes that have emerged from this pandemic are the hospital and health care professionals who have served on the frontlines, providing treatment and care to our family members and friend. As Florida's communities continue to brave the pandemic, it is imperative that there are liability protections in place to guard against unfounded lawsuits. Thank you, Senator Brandes for starting this important conversation and I encourage Florida's lawmakers to take action on this necessary reform."
Safety Net Hospital Alliance of Florida CEO Justin Senior said, "We thank Senator Brandes for his leadership on this very important issue. Our safety net hospitals' frontline health care workers have worked tirelessly over the past 12 months to protect Floridians from COVID. They have achieved outcomes for Florida that consistently beat national averages and the outcomes of other large states. During the year, hospitals and health care workers were forced to make difficult decisions around postponing scheduled surgeries and other procedures.  We believe that health care workers should be protected from frivolous lawsuits when they have made good faith decisions to delay scheduled procedures during state and local shutdowns."
The Florida Chamber also joined the effort to highlight results from a new statewide poll they conducted to hear what Florida voters think about legal protections for businesses, as well as the healthcare community.
"A recent Florida Chamber poll shows 78 percent of Floridians realize the brave work being done by healthcare professionals and want to make sure they are protected from unnecessary litigation from personal injury trial lawyers," said Florida Chamber Vice President of Governmental Affairs Frank C. Walker. "The Florida Chamber applauds Senator Jeff Brandes for recognizing our healthcare heroes and is proud to join the fight to extend protections to all frontline employers and workers in the healthcare community to ensure they can continue saving lives without fear of facing frivolous lawsuits."
FHCA is advocating for COVID-19 liability protections for long term care to ensure that providers can continue to operate and recover from the pandemic and keep their resources focused on resident care needs.
As part of the event, Senator Brandes profiled long term caregivers on the frontlines, including Katoria Westbrook, Director of Nursing at Centre Pointe Health & Rehabilitation, where she has spent the majority of her long term care career enriching the lives of the residents and more recently, focusing on all the safety measures to protect them from COVID despite the physical and emotional toll of the pandemic.
FHCA Executive Board Member Kathy Gallin emphasized the critical, live-saving decisions that were made by frontline caregivers like Katoria, noting that thousands of heroes like her put their own lives at risk, even sewing masks by hand when none were available to protect against the threat of the virus. "Because of that, we should be celebrating our caregivers, not putting them at risk of being sued for a crisis they did not create."
Hear what Senator Jeff Brandes, CFO Jimmy Patronis and others are saying about the importance of COVID-19 liability protections by watching the Facebook Live video event.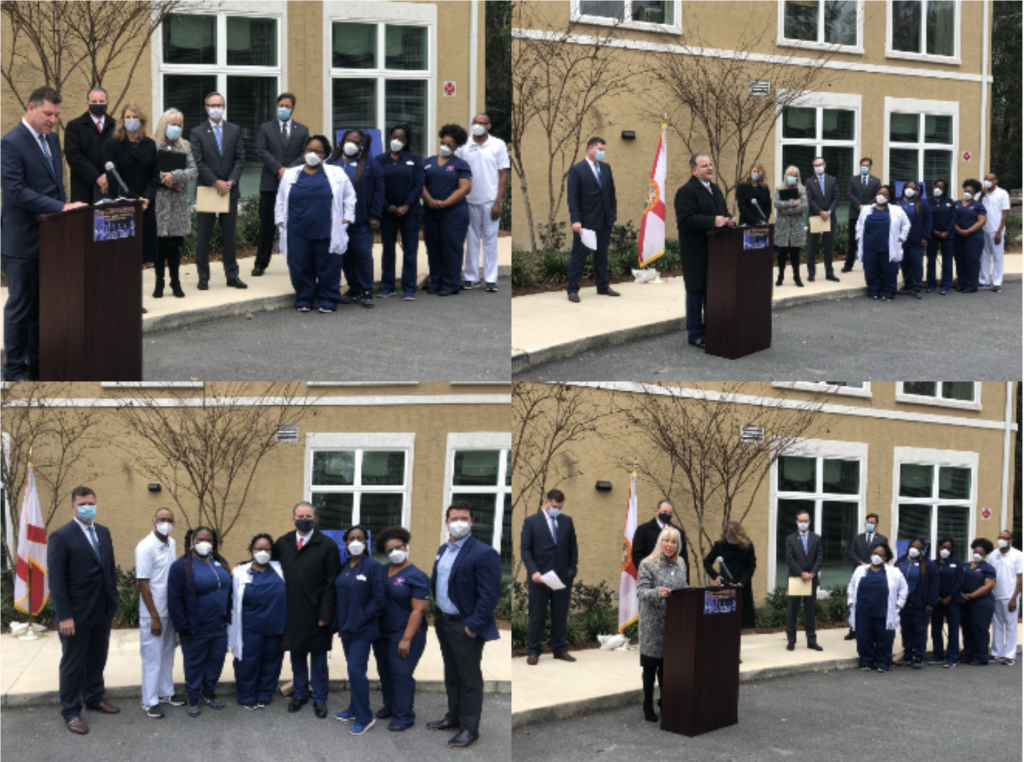 ABOUT THE FLORIDA HEALTH CARE ASSOCIATION
The Florida Health Care Association (FHCA) is a federation that serves nearly 1,000 members and represents more than 500 long-term care facilities that provide skilled nursing, post-acute and subacute care, short-term rehab, assisted living, and other services to the elderly and individuals with disabilities in Florida. The mission of FHCA is to advance the quality of services, image, professional development, and financial stability of its members. As Florida's first and largest advocacy organization for long-term care providers and the elderly they serve, the Association has worked diligently since 1954 to assist its members with continuously improving quality of care and quality of life for the state's growing elder care population. For more information about the Florida Health Care Association, visit http://www.fhca.org.