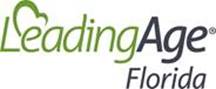 LeadingAge Florida, Florida's only association representing the entire continuum of care for older adults, issued the following statement regarding Senate Bill 74, COVID-19-related Claims Against Health Care Providers filed today by Senator Jeff Brandes (R-St. Petersburg).
The following statement is attributed to Steve Bahmer, LeadingAge Florida President and CEO.
"The highly contagious, deadly coronavirus has been particularly harmful for older adults and those who serve them across the continuum of senior care. These frontline health care workers have fought the virus for months with courage and resolve. And despite the risks, the dedicated staff working in our long-term care communities have continued to provide compassionate care and services, prioritizing the health and wellbeing of residents above their own wellbeing."
"However, their tireless work to provide high quality care has been challenged by a lack of protective equipment, as well as ever-changing protocols and conflicting recommendations from federal, state and local agencies. These factors have hampered COVID-19 efforts even in the highest quality long term care facilities in the state."
"We appreciate Senator Brandes' leadership in filing legislation that extends reasonable liability protections to providers, and we look forward to working with the Florida Legislature and other key stakeholders on this important bill. This bill is the first step in giving providers the confidence and protection needed to continue providing the highest quality of care for Florida's seniors in the midst of an ongoing pandemic."
For more than 57 years, LeadingAge Florida has been the state's leading advocate for high-quality senior living, aging services and care. We are the only statewide association representing the full continuum of care for seniors. The Association provides up-to-date regulatory information, a wide variety of educational opportunities, representation before the Legislature and government agencies, group purchasing services, and opportunities for networking with peers to help member communities best serve the needs of Florida's senior population.