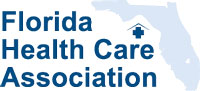 House Speaker Chris Sprowls (R-Clearwater) and Health & Human Services Committee Chair Colleen Burton (R-Lakeland) today released a draft proposed committee bill (PCB) HHS 21-01 to provide COVID-19 liability protections to healthcare providers.
In a statement, Florida Health Care Association Executive Director Emmett Reed thanked Speaker Sprowls and Chair Burton for introducing a bill that recognizes the sacrifices made by our long term healthcare heroes who have worked to keep our state's seniors safe and well cared for under the most challenging circumstances.
"Our long term caregivers have fought valiantly throughout the pandemic to ensure Florida's most vulnerable are safeguarded against the threat of COVID-19. As the Speaker noted, when our health care heroes have taken every precaution to protect those they care for, their actions should not be unnecessarily second guessed. Lawsuits are not the remedy to ensuring high quality care – they simply divert precious resources away from our care centers and send a dangerous message to the health care heroes on the front lines – that the clinical, life-saving decisions they made to protect residents will be used against them."
FHCA has made COVID-19 liability protections for long term care providers a top legislative priority in the 2021 session. These legal protections will ensure providers can keep their resources focused on continuing to protect residents and staff from the virus while delivering the high-quality care Florida's seniors depend on.
ABOUT THE FLORIDA HEALTH CARE ASSOCIATION
The Florida Health Care Association (FHCA) is a federation that serves nearly 1,000 members and represents more than 500 long-term care facilities that provide skilled nursing, post-acute and subacute care, short-term rehab, assisted living, and other services to the elderly and individuals with disabilities in Florida. The mission of FHCA is to advance the quality of services, image, professional development, and financial stability of its members. As Florida's first and largest advocacy organization for long-term care providers and the elderly they serve, the Association has worked diligently since 1954 to assist its members with continuously improving quality of care and quality of life for the state's growing elder care population. For more information about the Florida Health Care Association, visit http://www.fhca.org.