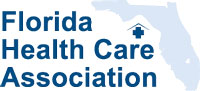 Florida Health Care Association Executive Director Emmett Reed yesterday provided an extensive briefing on long term care centers' COVID-19 response throughout the pandemic to Florida's Senate Select Committee on Pandemic Preparedness and Response.
Reed discussed facilities' protocols enacted to mitigate spread and how they adapted to personal protective equipment (PPE) shortages, lack of initial access to testing and changing/conflicting guidance. He also covered the response collaboration with the State, provided an update on vaccinations and shared what providers continue to do to keep residents safe.
"Our caregivers have shown incredible resilience and unbelievable commitment going in every day taking care of Florida's frail elders in our state, and we're very proud of them," Reed said to members of the Senate Committee.
Reed provided an update on COVID cases in long term care facilities, reporting that 97% of nursing home residents and 98% of staff are currently COVID-free and that the vast majority of nursing centers have received their first dose of the vaccine with second dose clinics underway.
He also noted that decline in community spread is also contributing to the decline in cases in long term care facilities. Reed pointed to independent research that shows the correlation between community spread and the likelihood of outbreaks in long term care facilities.
A report released by the CDC last month confirmed that trends in community infections from COVID-19 align with cases throughout nursing homes. The report examined the CDC's National Healthcare Safety Network (NHSN) data from May 25 through November 22, 2020. The CDC found that COVID-19 rates increased in nursing homes in June and July and again in November, similar to trends found within the surrounding communities. The CDC report aligns with similar research conducted by experts at some of our nation's top academic institutions, including Harvard University, Brown University and The University of Chicago.
When asked what concerns face the long term care sector going forward, Reed pointed to staff burnout impacting a preexisting workforce shortage. He also cited the increased costs from the pandemic compounded with a 15% decline in resident occupancy.
"If we don't start to see occupancy increase over the next six or seven months, maybe even less, you're going to start seeing nursing homes in a very dire situation financially. It's just, the margins are razor-thin," said Reed.
FHCA is advocating to protect the 2020-2021 Medicaid funding increase and enact COVID liability protections for healthcare providers to ensure facilities have the resources needed to recover from the pandemic and continue meeting residents' care needs. The Association is also asking lawmakers to address nursing centers' workforce challenges by making the Personal Care Attendant Program permanent.
Watch highlights from Thursday's Committee meeting here.
ABOUT THE FLORIDA HEALTH CARE ASSOCIATION
The Florida Health Care Association (FHCA) is a federation that serves nearly 1,000 members and represents more than 500 long-term care facilities that provide skilled nursing, post-acute and subacute care, short-term rehab, assisted living, and other services to the elderly and individuals with disabilities in Florida. The mission of FHCA is to advance the quality of services, image, professional development, and financial stability of its members. As Florida's first and largest advocacy organization for long-term care providers and the elderly they serve, the Association has worked diligently since 1954 to assist its members with continuously improving quality of care and quality of life for the state's growing elder care population. For more information about the Florida Health Care Association, visit http://www.fhca.org.