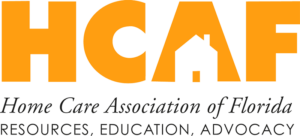 The Home Care Association of Florida (HCAF) yesterday sent a letter to Governor Ron DeSantis and statewide public health officials calling for expanded access to COVID-19 vaccines for home care workers across Florida.
Since the December 2020 Executive Order ("EO 20-135") that laid out the first phase of the COVID-19 immunization program — which included "health care personnel with direct patient contact" — home health agencies continue to report that workers are being turned away at vaccine locations across the state due to varying interpretations of the order.
"A nurse, therapist, or personal care worker caring for patients in the home setting is no different from their counterpart providing care in a facility setting, yet home health workers continue to be a 'blind spot' in the immunization program," stated HCAF Executive Director Bobby Lolley, RN. "We respectfully request explicit designation of home health clinicians and caregivers as front-line health care workers and included in EO 20-135."
Additionally, Lolley recommended that the state "distribute vaccines directly to home health agencies or at least provide home health workers with regular ongoing access to the vaccine at county health departments or hospitals as a desirable alternative."
Click here to read the letter: https://bit.ly/3aVL7cJ
The letter was also sent to Jared Moskowitz, Director of Florida's Division of Emergency Management; Shevaun Harris, Acting Secretary of the Agency for Health Care Administration; Dr. Scott Rivkees, Florida Surgeon General; and all 160 members of the Florida Legislature.
Since the Governor's December order, home care industry leaders and professionals have sounded the alarm to policymakers and the media about this issue. On February 1, CNN covered the issue in an on-air report from Palm Beach County. Additional news reports are provided below.
• WFTX Fox 4 Fort Myers: Brightstar Care, a Home Health Care Provider, is Working to Get Homebound Seniors Vaccinated (Jan. 28, 2021)
• McKnight's Senior Living: Sunshine State's Home Health Workers Calling for More Access to Vaccine (Jan. 26, 2021)
• WPBF ABC 25 Palm Beach Gardens: Home Health Care Workers Calling for More Access to Vaccine (Jan. 25, 2021)
• WFLX Fox 29 West Palm Beach: Home Health Workers Not Included in 1st Wave of Vaccines (Jan. 22, 2021)
• WZVN ABC 7 Fort Myers: At-Home Care Patients Struggle to Get Covid-19 Vaccine (Jan. 17, 2021)
The Home Care Association of Florida (HCAF) is the premiere trade association for the home care industry in Florida. Founded in 1989, HCAF exists to provide representation, communication, and advocacy for providers, and to give them the education and information they need to deliver high-quality, cost-effective services to patients and clients at home. For more information, visit HomeCareFLA.org.