Florida A&M University (FAMU) alumnus, Rear Adm. Cedric Guyton was promoted on February 1 to assistant surgeon general in the U.S. Public Health Service (USPHS). Before his promotion to Rear Adm., Guyton already served in the role of deputy director, Division of Commissioned Corps Services.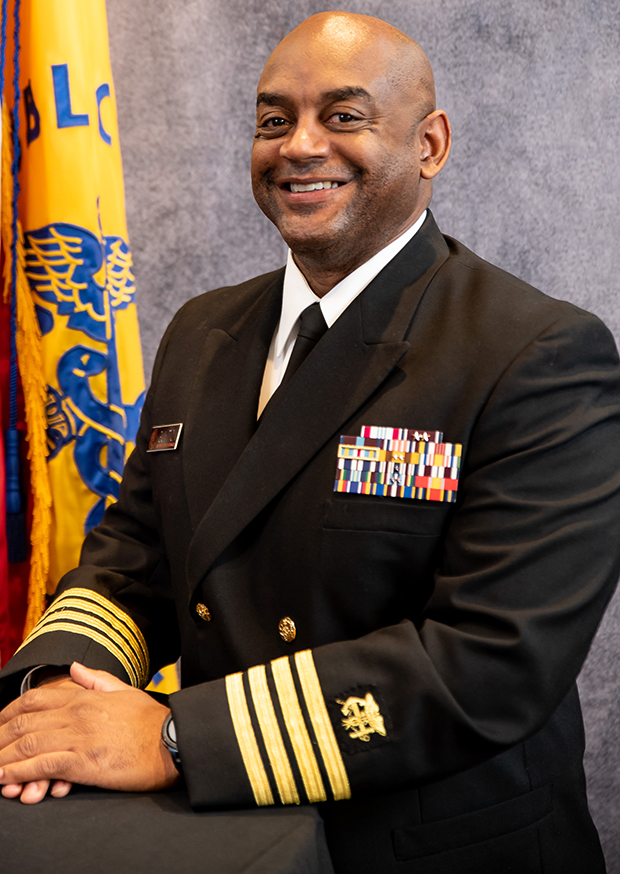 As the deputy director of the Division of Commissioned Corps Services, Guyton is responsible for providing leadership and oversight of the development and implementation of officer recruitment, readiness and deployment, career management including assignments, separations, and promotions, and training services necessary to successfully manage the 6,100 active-duty officers of the USPHS Commissioned Corps.
Guyton said his promotion is a great lesson that it "does not matter where you start your journey; you just need to know where you want to go.
"My promotion is a great reflection of the dedication and hard work of my village – my mother, my father, and my family," Guyton said. "My family ensured that as an African American male, I made it out of the backwoods of Thomasville, Georgia."
In his new role, Guyton is operationally in-charge of four senior leaders and 30 officers and civilian employees. He is also responsible for advising the director of Commissioned Corps Headquarters on the annual $28 million budgetary development process.
A two-time graduate of the FAMU College of Pharmacy and Pharmaceutical Sciences, Institute of Public Health, (COPPS), he received a PharmD in 1998 and a master's in Public Health in 2004.
"FAMU instilled in me the confidence, determination, and educational tools to survive and thrive in any professional environment. My experiences in the COPPS while obtaining my doctorate and eventually MPH, prepared me to sit in the Pentagon to present IT budgets and project plans, fill prescriptions in underserved communities, and manage and lead public health programs within many divisions of Health and Human Services," said Guyton, who earned his bachelor's from Albany State University.
"I was raised to never make an excuse about where you come from but to focus on where you want to go," Guyton added. "My promotion was proof that the experiences and expertise I obtained at the highest of seven hills propelled me the top of my career within the United States Public Health Service. I have been truly blessed with a great family, mentors, and professors."
Guyton's earlier assignments as a Public Health Service officer included serving as the lead project officer within the Center for Medicare and Medicaid Innovation (CMMI) Policy and Programs Group and CMMI liaison to the Health and Human Services (HHS) Office of the National Coordinator (ONC). Prior to serving in CMMI, Guyton served as Defense Health Information Management Systems director of interagency and imaging, when he was responsible for management of $120 million in Health IT development, integration, and sustainment contracts.
In his first Corps assignment, Guyton served as clinical staff pharmacist in Whiteriver, Ariz., and Tucson Area Indian Health Service (IHS) in 2007 as chief pharmacist of the San Xavier Indian Health Center.  He also served as a Tucson Area IHS clinical applications coordinator and teleradiology program project officer during his tour.
Clyde Perry Brown, D.Ph., a professor in the Institute of Public Health, was Guyton's adviser in the master's program. Guyton was a joy to teach and interact with, Brown said.
"He consistently, as his schedule allowed, came back to the Institute of Public Health.  On several occasions, he gave seminars on opportunities in the Public Health Service and the Indian Health Service," Brown added.  "Dr. Guyton was always looking back over his shoulder to see who he could pull forward. He is truly a great public health professional and public servant. His humility above all sets him apart from others with similar achievements."