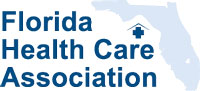 Florida's nursing centers were already facing a workforce shortage prior to COVID, and the pandemic has only exacerbated this crisis. For nearly a year, nursing center caregivers have been working around the clock to protect the residents entrusted to their care. These healthcare heroes on the frontline have taken on countless hours of overtime and double shifts to make up for widespread shortages. Despite increasing burnout, they have never wavered from their commitment to keep vulnerable seniors safe.
An analysis of government data by the U.S. Public Interest Research Group (PIRG) Education Fund found that workforce shortages persist. Their report found:
More than 3,000 U.S. nursing homes last month had a shortage of nurses or other direct-care staff, and it's a crippling problem that has existed since last May.
For most of last year, more than 200,000 people at any given time were in nursing homes that themselves acknowledged they were suffering from staff shortages.
The number of facilities reporting shortages of nurses, aides or clinical staff actually increased from May to December. By early December, 23 percent of homes reported a shortage of at least one category of direct-care staff.
COVID outbreaks fueled staff shortages. More cases meant more stress for workers, more workers who contracted the virus or were exposed and then, even more staff shortages.
"Our health care heroes on the frontlines showed up every day, putting themselves in harm's way to protect their residents," said Emmett Reed, FHCA Executive Director. "Burnout is a real concern for all health care workers during this pandemic, and now is the time to redouble our efforts with initiatives that can help strengthen the long term care workforce."
As a first step to address this crisis, FHCA is advocating this legislative session to make the Personal Care Attendant (PCA) Program permanent. The Agency for Health Care Administration approved the PCA program in the early stages of the pandemic last March, to give nursing centers additional staff to meet residents' care needs while also meeting minimum staffing requirements. The program, which is currently set to expire when the COVID-19 State of Emergency ends, expands the long term care workforce by creating a pathway for individuals to learn the skills to become a certified nursing assistant (CNA).
The PCA Program has shown proven success since it was established, with nearly 2,000 individuals joining the long term care workforce as PCAs to date. Many have passed the certification exam or are awaiting their test date to advance into the CNA role. Senator Aaron Bean (R-Jacksonville) has filed Senate Bill 1132, with Representative Sam Garrison (R-Orange Park) filing House Bill 485, both of which would make the program permanent.
"COVID-19 has taken a physical and emotional toll on our health care heroes in long term care. We appreciate Senator Bean and Representative Garrison for recognizing the opportunities the PCA program will afford our state. It gives out-of-work Floridians an entry point into the long term care profession and can help our nursing centers attract and retain new talent to ensure they're ready to meet the needs of our state's growing senior population," Reed continued.
Read more about FHCA's advocacy to make the Personal Care Attendant program permanent this legislative session.
ABOUT THE FLORIDA HEALTH CARE ASSOCIATION
The Florida Health Care Association (FHCA) is a federation that serves nearly 1,000 members and represents more than 500 long-term care facilities that provide skilled nursing, post-acute and subacute care, short-term rehab, assisted living, and other services to the elderly and individuals with disabilities in Florida. The mission of FHCA is to advance the quality of services, image, professional development, and financial stability of its members. As Florida's first and largest advocacy organization for long-term care providers and the elderly they serve, the Association has worked diligently since 1954 to assist its members with continuously improving quality of care and quality of life for the state's growing elder care population. For more information about the Florida Health Care Association, visit http://www.fhca.org.