Perception may not be reality, but it can influence people's interactions with others and create a difficult barrier to break through. To help residents build understanding and start what can be a difficult conversation, Equity Tallahassee Leon announced its new community challenge today.
"An Exchange of Perspectives" encourages people to connect one-on-one with those outside their typical circles from March 1-7. During these meetings, participants are encouraged to discuss their beliefs, values, upbringing and more to help one another gain an understanding of their life and circumstances. A deep conversation, such as this, requires time, so participants are asked to set aside an hour for each exchange.
"The more we learn about each other, the more we can begin to understand the potential greatness of our collective force. But that can only happen if we're willing to see the world through each others' eyes," said Shonda Knight, Executive Director of Community and Media Relations for the Leon County Sheriff's Office.
Participants are encouraged to share their experiences by submitting video, photos, and/or a written narrative highlighting the exchange here or posting to social media and tagging @EquityTLHLeon on Facebook, Twitter or Instagram. Submissions may be selected by Equity Tallahassee Leon to be shared online or at events designed to help further conversations focused on creating a more inclusive community.
"We are excited to be a part of Equity Tallahassee Leon and join others who share a passion for breaking down the stubborn walls of racism in our community," said Drew Piers, APR, president of the Florida Public Relations Association Capital Chapter. "As an association of communicators, we see an opportunity to amplify important stories and work toward initiating a conversation about equity, racism, justice and a broader discussion about where we go from here."
To provide a framework for these conversations, Equity Tallahassee Leon also announced the launch of its new website. Information about the challenge and resources about racial equity are available at https://equitytallahassee.org. The site also outlines the group's mission and highlights the growing "Let's Talk" video interview series featuring members of the community including Shonda Knight, Miaisha Mitchell, Commissioner Rick Minor, and others.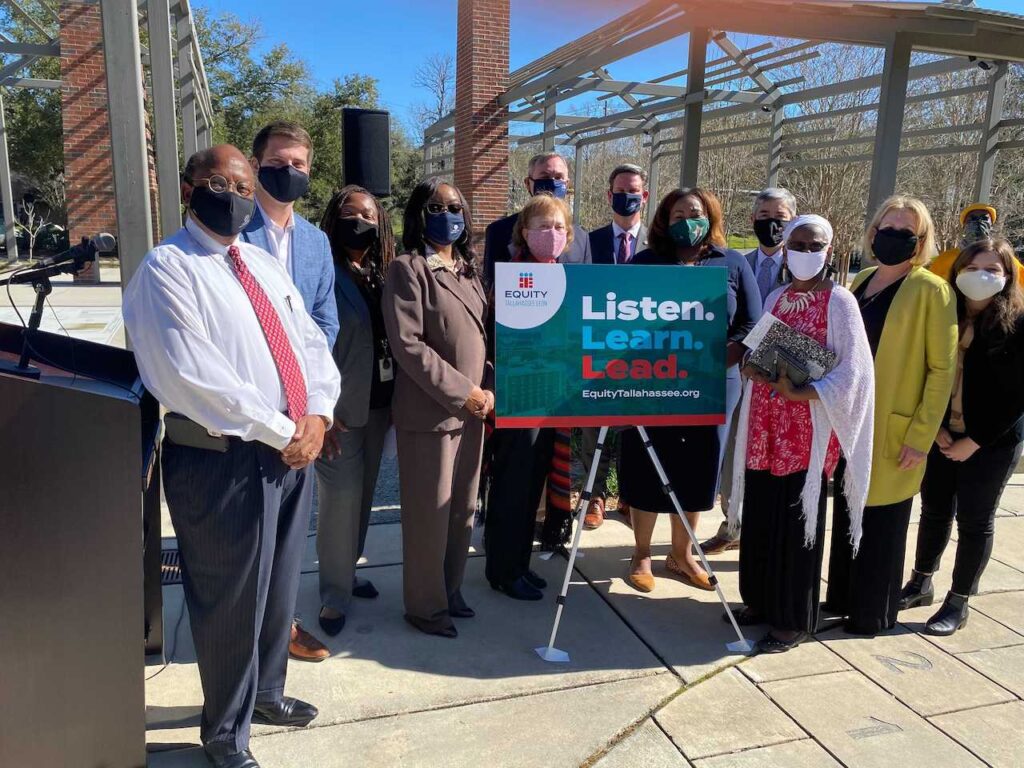 "I am happy that we are able to continue this conversation on equity that we re-started in 2019. We all know that this is continuous work, and we are committed to continue this work to move our city forward for all residents," said City of Tallahassee Commissioner Diane Williams-Cox.
Equity Tallahassee Leon is a coalition of leaders and advocates committed to addressing the issues of racial injustice and systemic racism in the local community. It is on a mission to engage the community in conversations that promote the just treatment of all people.
"Through our work in the community, Whole Child Leon recognizes that equity is not the same as equality. Our goal is to ensure that our children are provided the support and resources they need to reach their full potential and that race and ethnicity are no longer predictors of life outcomes," said Courtney Atkins, Executive Director of Whole Child Leon.
Equity Tallahassee Leon will continue to promote lasting change in our community through dialogue. The coalition asks the people of Leon Country to engage in fostering understanding and opportunity for all, regardless of race. More information on Equity Tallahassee Leon can be found at https://equitytallahassee.org and @EquityTLHLeon on Facebook, Twitter and Instagram.