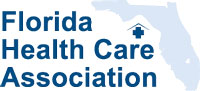 The Florida Health Care Association, representing more than 600 nursing centers and assisted living communities across Florida, today applauded the Senate Health Policy Committee for approving Senate Bill 74. The proposed legislation would provide important COVID-19 liability protections for health care workers, including long term care providers, keeping more resources available for the care of Florida's most vulnerable residents.
"The COVID pandemic has been one of the most challenging experiences for my team members. We worked behind N95 masks and several layers of personal protective equipment to protect the most vulnerable people in our state," Kim Biegasiewicz, Chief Nursing Officer of the Avante Group, told the committee before the Wednesday vote. "It's been a long year, and my staff are physically and mentally weary. The last thing they need is the added anxiety of having our decisions second-guessed by attorneys and others who can't imagine the pressures we've had to endure."
Sen. Jeff Brandes filed SB 74 and is championing the issue in the Senate. Rep. Colleen Burton is sponsoring similar legislation in the House, HB 7005, which passed out of the House Pandemic and Public Emergencies Committee on Tuesday.
The COVID-19 pandemic has created an environment ripe for opportunistic litigation, particularly impacting Florida's nursing centers that care for a population especially vulnerable to the virus. FHCA is advocating for COVID-19 liability protections to prevent the threat of excessive litigation to ensure long term care facilities can keep their resources, both human and financial, directed toward resident care.
"Lawsuits pull staff away to sit through hours of depositions, which means less time spent with the residents. Less time hearing their stories, holding their hands – things that make their lives better and make what we do more than just a job. It's our passion; a calling to serve those who need us most," Biegasiewicz said. "Can you imagine what it does for staff morale when we see the billboards and hear the commercials with lawyers claiming to be the protectors of those we are caring for every single day?"
Biegasiewicz continued, "Unfortunately, we're seeing long term caregivers leave this profession because of burnout and stress. We can't afford for that to happen right now. We need to lift up our existing caregivers, and we need to be able to recruit new staff to join our workforce without the fear of being sued."
Watch Biegasiewicz's full testimony here.
ABOUT THE FLORIDA HEALTH CARE ASSOCIATION
The Florida Health Care Association (FHCA) is a federation that serves nearly 1,000 members and represents more than 500 long-term care facilities that provide skilled nursing, post-acute and subacute care, short-term rehab, assisted living, and other services to the elderly and individuals with disabilities in Florida. The mission of FHCA is to advance the quality of services, image, professional development, and financial stability of its members. As Florida's first and largest advocacy organization for long-term care providers and the elderly they serve, the Association has worked diligently since 1954 to assist its members with continuously improving quality of care and quality of life for the state's growing elder care population. For more information about the Florida Health Care Association, visit http://www.fhca.org.