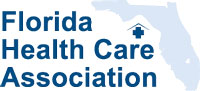 FHCA Underscores Need to Keep Resources Directed Toward Resident Care
Florida Health Care Association today applauded legislators for continuing to advance COVID-19 liability protections for health care providers, an action that underscores the need to protect facilities' resources to support resident care. The Senate Rules Committee merged health care liability protections into SB 72 by Sen. Jeff Brandes (St. Petersburg), which extends protections to general businesses. Today's vote follows yesterday's approval by the House Judiciary Committee of HB 7005 by Rep. Colleen Burton (R-Lakeland).
FHCA Executive Director Emmett Reed said, "Our state's long term care centers are on the brink of an economic crisis, and excessive lawsuits will only add to that financial instability. As Florida's population continues to age, the need for nursing centers to have stable funding is critical to ensuring a strong workforce and a high-quality care delivery system."
Administrator Joanne Watson of Miracle Hill Health and Rehabilitation Center appeared before the committee today in support of the bill. She is a first-hand witness to the financial challenges that long term care centers have experienced as a result of the pandemic and how excessive lawsuits would have a negative impact on the financial stability of the profession. "The COVID pandemic has challenged my care center more than anything I could have ever imagined. It has been emotionally draining on my team and financially straining on our facility," said Watson. "We've spent thousands of dollars outside our normal expenses to pay for personal protective equipment and testing supplies and continue to do so today."
A recent FHCA analysis covering one-third of Florida's nursing centers showed that facilities have spent $163 million more on care and operations over the past year to fight the virus. Those cost increases are associated with purchasing personal protective equipment (PPE) and infection control supplies at a rate 90% higher than what was used prior to COVID-19. Nursing centers also saw significant cost increases related to implementing routine testing and hiring additional staff to protect and care for residents. During that same one-year period, nursing centers lost $651 million resulting from a 15% decline in resident occupancy brought on by COVID-related restrictions that limited new admissions.
"We pour every dollar we have into running our organization and ensuring that we have the staff to meet our residents' needs. We don't have the ability to set aside extra dollars to fund lawsuits from a crisis we didn't create," Watson continued.
Adding to those financial challenges are the rising litigation costs for long term care providers as the frequency and severity of claims increase. According to the 2020 Professional and General Liability Benchmark for Long Term Care Providers by Oliver Wyman and Marsh (Feb. 2021), Florida's long term care centers have a forecasted loss rate of $2,144 per bed. That amounts to $248,932 in liability costs per year for the average 100-bed facility.
FHCA continues to advocate for COVID-19 liability protections for long term care providers to ensure that their resources can stay directed toward caring for residents, hiring staff and keeping both protected from the virus.
ABOUT THE FLORIDA HEALTH CARE ASSOCIATION
The Florida Health Care Association (FHCA) is a federation that serves nearly 1,000 members and represents more than 500 long-term care facilities that provide skilled nursing, post-acute and subacute care, short-term rehab, assisted living, and other services to the elderly and individuals with disabilities in Florida. The mission of FHCA is to advance the quality of services, image, professional development, and financial stability of its members. As Florida's first and largest advocacy organization for long-term care providers and the elderly they serve, the Association has worked diligently since 1954 to assist its members with continuously improving quality of care and quality of life for the state's growing elder care population. For more information about the Florida Health Care Association, visit http://www.fhca.org.