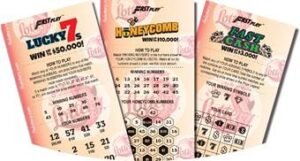 The Fastest Way to Play and Win!
The Florida Lottery announces the launch of three new Fast Play™ games, on sale today! LUCKY 7s, HONEYCOMB, and FAST CASH range in price from $1 to $5 and each feature a unique play style.
LUCKY 7s gives players a chance to double their prize when any of their matches end in the number seven. This $5 game gives players the opportunity to win up to $50,000 on a single ticket! The overall odds of winning a LUCKY 7sprize are 1-in-3.16.
With the $2 HONEYCOMB game, players try to match all six of their numbers around any of the sweet prizes shown to win up to $10,000 in cash! The overall odds of winning a HONEYCOMB prize are 1-in-3.72.
For just $1, FAST CASH comes packed with winning symbols which players can match up to 15 times for a chance to win $3,000 instantly! The overall odds of winning a FAST CASH prize are 1-in-4.55.
Fast Play games print on-demand from Lottery terminals and can be played immediately. Fast Play tickets automatically replenish in the prize grid after each purchase, which means prizes, including top prizes are always available! To play, ask the retailer for a Fast Play ticket for the game you wish to play, or present a Fast Play playslip, tear-away sheet, or barcode to the retailer and a ticket will print automatically.
Prizes up to $50,000 can be claimed at any Florida Lottery district office, and prizes less than $600 can be redeemed immediately at any Florida Lottery retailer.
ABOUT THE FLORIDA LOTTERY
The Florida Lottery is responsible for contributing more than $38 billion to enhance education and sending more than 880,000 students to college through the Bright Futures Scholarship Program. The Florida Lottery reinvests 99 percent of its revenue back into Florida's economy through prize payouts, commissions to more than 13,000 Lottery retailers and transfers to education. Since 1988, Florida Lottery games have paid more than $73.2 billion in prizes and made nearly 3,000 people millionaires. For more information, please visit www.flalottery.com.