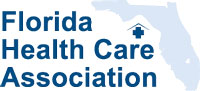 FHCA Applauds Senate and House Committees for Support
of Making the Personal Care Attendant Program Permanent
Florida Health Care Association today applauded legislators in both the Senate and House for advancing legislation to further strengthen the long term care workforce by making permanent the program that allows Personal Care Attendants (PCAs) to work in Florida's nursing centers. The Senate Health Policy Committee approved SB 1132 by Sen. Aaron Bean (R-Jacksonville), followed by the House Finance and Facilities Subcommittee approving HB 485 by Rep. Sam Garrison (R-Orange Park).
"Attracting and retaining frontline caregivers continues to be one of the biggest challenges for Florida's nursing centers, and the pandemic only made things worse. The Personal Care Attendant program has been a tremendous help, and we hope it becomes a permanent part of our workforce," said FHCA Senior Director of Quality Affairs Deborah Franklin. "We've seen nearly 2,000 individuals go through the PCA program since it began, and we continue to hear stories of PCAs who have become CNAs and are now exploring greater opportunities in health care – like becoming a licensed practical nurse or a registered nurse."
The Personal Care Attendant Program was approved by the Agency for Health Care Administration last March when the pandemic was exacerbating nursing centers' staffing challenges. As facilities worked to keep residents safe, they had to deal with staff who were calling out sick, coping with family issues or simply leaving the profession out of fear or stress. The PCA program, which is currently set to expire when the COVID-19 State of Emergency ends, expands the long term care workforce by creating a pathway for individuals to learn the skills to become a certified nursing assistant (CNA).
Shontia Carter, a Personal Care Attendant at Edgewood Nursing Center in Jacksonville, testified before the committees about how the program has given her an opportunity to better herself and pursue a career in health care. "I made a promise to my family that I would give them the best life they deserve," said Carter. "As a [PCA], I'm learning the skills I need to become a nurse someday, which is a goal of mine. This program has taught me that working at Edgewood is more than just a job, it's a future to a better career, a place where I can make a difference in the lives of my residents and where I can be part of a team."
PCAs receive 16 hours of classroom instruction from a Registered Nurse and are then required to demonstrate competence in various resident care skills. The PCAs work alongside an experienced CNA, getting supervised on-the-job training, until they have the knowledge and skills to challenge the CNA exam.
Jessa Collins, administrator at Edgewood Nursing Center, also appeared before both committees in support of the bill. She shared how the program was a lifeline for the facility during the pandemic and continues to benefit recruitment efforts today. "We needed all hands on deck. Our PCAs gave added support to our Certified Nursing Assistants, with more hands to pass food trays, make beds and provide basic care duties so we could ensure that our residents were still getting the care they needed," said Collins. "We've hired 10 PCAs since the pandemic began, and six have since taken the Certified Nursing Assistants exam and are working in our care center."
FHCA continues to advocate for making the Personal Care Attendant program permanent in order to support nursing centers in attracting and retaining new talent and to ensure that the long term care sector is ready to meet the needs of our state's growing senior population.
ABOUT THE FLORIDA HEALTH CARE ASSOCIATION
The Florida Health Care Association (FHCA) is a federation that serves nearly 1,000 members and represents more than 500 long-term care facilities that provide skilled nursing, post-acute and subacute care, short-term rehab, assisted living, and other services to the elderly and individuals with disabilities in Florida. The mission of FHCA is to advance the quality of services, image, professional development, and financial stability of its members. As Florida's first and largest advocacy organization for long-term care providers and the elderly they serve, the Association has worked diligently since 1954 to assist its members with continuously improving quality of care and quality of life for the state's growing elder care population. For more information about the Florida Health Care Association, visit http://www.fhca.org.