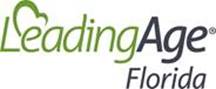 LeadingAge Florida, Florida's only association representing the entire continuum of care for older adults, issued a statement today lauding the Florida Senate for passing SB 72, which will provide important COVID-19 liability protections for long-term care providers. The following statement is attributed to LeadingAge Florida President and CEO Steve Bahmer.
"We appreciate Senator Brandes for his leadership and the Senate for its support in passing legislation that extends reasonable liability protections to long-term care providers. For a year, our long-term care heroes have fought courageously, under extraordinarily difficult circumstances, to protect Florida's seniors from the coronavirus. Today, we applaud the Senate for protecting them.
Long-term care settings are home to older adults who tend to have serious underlying health conditions. This reality, combined with the novelty of the virus and ever-changing treatment protocols has made the virus extremely challenging to mitigate. In fact, recent studies indicate that the best predictor of COVID-19 getting into a long-term care facility is community spread – if it was spreading in your town, it was likely to get into businesses of all types, including long-term care communities.
The bill strikes an appropriate balance that ensures COVID-19 claims can be filed where legitimate actions of gross negligence or intentional misconduct may have occurred, while preventing opportunistic lawsuits that do nothing to enhance long-term care quality or accountability."
For more than 57 years, LeadingAge Florida has been the state's leading advocate for high-quality senior living, aging services and care. We are the only statewide association representing the full continuum of care for seniors. The Association provides up-to-date regulatory information, a wide variety of educational opportunities, representation before the Legislature and government agencies, group purchasing services, and opportunities for networking with peers to help member communities best serve the needs of Florida's senior population.