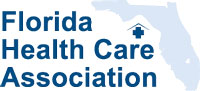 Senate and House Committees Approve Legislation
Making the Personal Care Attendant Program Permanent
The COVID-19 pandemic has shined a light on the need for long-term solutions to help nursing centers attract and retain new talent to meet the needs of Florida's growing elderly population. Today, Florida Health Care Association applauded lawmakers for continuing to advance legislation that would make Personal Care Attendants a permanent part of the long term care workforce. The House Health and Human Services Committee approved House Bill 485 by Rep. Sam Garrison (R-Orange Park), an action that follows yesterday's approval by the Senate Committee on Children, Families and Elder Affairs of Senate Bill 1132 by Sen. Aaron Bean.
Under the proposed legislation, PCAs would undergo 16 hours of instruction followed by on-the-job training beside Certified Nursing Assistants (CNA). After four months of hands-on training, PCAs must pass the exam to become a CNA or move into an indirect care role such as housekeeping or dietary aide.
The program, which was first authorized as COVID-19 swept through Florida, is currently set to expire when the COVID-19 State of Emergency ends. Florida Health Care Association is advocating for the legislation as a win-win for Florida, as long term care residents benefit from the enhanced quality of care that PCAs help provide while PCAs begin a career path in a growing health care field.
Rashawn VanVleet, a Pensacola-area Certified Nursing Assistant who began working as a PCA last August, testified before the committees detailing how the program gave her a chance to earn a paycheck while preparing for the CNA exam. "I was looking for a chance to make a better life for myself and my son. My goal is to become a nurse like the women in my family, and I don't think I would have had that opportunity if it wasn't for the Personal Care Attendant program," said VanVleet. "I could never have afforded to pay for CNA school and take classes while preparing for that test."
Similar to Nurse Aids in Training who are enrolled in CNA school, Personal Care Attendants can be counted toward a nursing center's minimum staffing hours after the individuals complete their 16-hour instructional program. By performing such important tasks as taking temperatures, delivering water, helping residents get dressed, and providing other care, PCAs are helping to ensure that nursing centers are properly staffed so residents receive the quality care they expect, need, and deserve.
Kim Warnecke with Gulf Coast Health Care, which operates 19 skilled nursing centers in Florida, shared how her organization has invested in the PCA program since it was first approved. "We've recruited 611 PCAs, or an average of 17 per building, and 99% of those PCAS who became CNAs continue to work in our care centers today," Warnecke said. "This program is a valuable pipeline that we need in long term care."
ABOUT THE FLORIDA HEALTH CARE ASSOCIATION
The Florida Health Care Association (FHCA) is a federation that serves nearly 1,000 members and represents more than 500 long-term care facilities that provide skilled nursing, post-acute and subacute care, short-term rehab, assisted living, and other services to the elderly and individuals with disabilities in Florida. The mission of FHCA is to advance the quality of services, image, professional development, and financial stability of its members. As Florida's first and largest advocacy organization for long-term care providers and the elderly they serve, the Association has worked diligently since 1954 to assist its members with continuously improving quality of care and quality of life for the state's growing elder care population. For more information about the Florida Health Care Association, visit http://www.fhca.org.