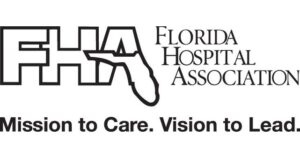 Florida Hospital Association President and CEO Mary Mayhew today responded to the Florida House's recommended health care budget for the upcoming fiscal year.
"In the midst of a pandemic, a half-billion-dollar budget cut to hospitals is a gut punch to the doctors, nurses and health care heroes who risked their lives responding to this crisis. It is simply beyond belief that during a public health emergency, some state lawmakers chose to balance the budget by cutting funding that serves the elderly, disabled, and most vulnerable families in our state. We call upon our state leaders to use a small portion of the $10 billion in new federal COVID-19 relief money to help Florida's hospitals and the patients they serve."
About the Florida Hospital Association
Founded in 1927, the Florida Hospital Association is the leading voice for health care in the State of Florida. Through representation and advocacy, education and informational services, the Florida Hospital Association supports the mission of over 200 hospitals and health care systems to provide the highest quality of care to the patients we serve. Led by President and CEO Mary Mayhew, the Florida Hospital Association has offices in Tallahassee and Orlando and is governed by a Board of Trustees and officers elected by the member institutions. For more information, visit www.fha.org.