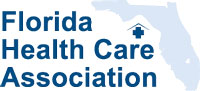 The Florida Health Care Association today applauded the House of Representatives for approving Senate Bill 72, which provides liability protection to health care providers who made a good faith effort to follow government health care guidelines during the COVID-19 pandemic.
Emmett Reed, Florida Health Care Association CEO, said: "Our health care heroes sacrificed their own well-being to rise to the challenge of protecting long term care residents during a pandemic unlike anything we've seen during our lifetimes. We thank Representative Burton and Senator Brandes for their leadership in developing legislation that protects health care heroes from opportunistic lawsuits. We're grateful to the entire House of Representatives for passing this bill which ensures that our centers can continue to direct their limited resources where they're needed most – caring for residents and supporting staff. We encourage Governor DeSantis to sign this crucial legislation quickly so our long term care facilities can remain focused on delivering the high-quality care our state's seniors depend on."
ABOUT THE FLORIDA HEALTH CARE ASSOCIATION
The Florida Health Care Association (FHCA) is a federation that serves nearly 1,000 members and represents more than 500 long-term care facilities that provide skilled nursing, post-acute and subacute care, short-term rehab, assisted living, and other services to the elderly and individuals with disabilities in Florida. The mission of FHCA is to advance the quality of services, image, professional development, and financial stability of its members. As Florida's first and largest advocacy organization for long-term care providers and the elderly they serve, the Association has worked diligently since 1954 to assist its members with continuously improving quality of care and quality of life for the state's growing elder care population. For more information about the Florida Health Care Association, visit http://www.fhca.org.