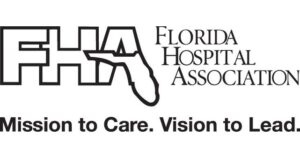 Mary Mayhew, President and CEO, Florida Hospital Association:
"When the coronavirus entered our communities last spring, Floridians retreated from public settings and put distance between themselves and others. Meanwhile, Florida's hospitals remained open, and our doctors, nurses, and hospital workers ran toward the threat with ever-changing guidance and information. Florida's health care providers were there for us when we needed them and now Florida is there to protect them from unfounded lawsuits stemming from this pandemic. On behalf of our more than 200 member hospitals and their thousands of health care staff, I want to extend my sincerest gratitude to Governor DeSantis, Senate President Simpson, House Speaker Sprowls and the bill sponsors for their work to protect our health care heroes."
Dr. Ravi Chari, President, West Florida Division, HCA Healthcare:
"Since the onset of the COVID-19 pandemic, hospital and other health care workers have been on the front lines of this unprecedented battle. We thank Governor DeSantis and Florida's legislative leaders for recognizing the extraordinary efforts of these heroes. Passage of SB 72 assures that these dedicated individuals will be able to remain focused on their work protecting the health and well-being of Floridians."
Emmett Reed, CEO, Florida Health Care Association:
"Governor DeSantis has shown an unwavering commitment to our long-term care facilities since the pandemic began, and his action today reflects his continued focus on the well-being of our residents. FHCA applauds the Governor for approving Senate Bill 72 to keep opportunistic lawsuits from diverting precious resources away from our facilities as they continue safeguarding residents and ensuring their high-quality care. With COVID vaccines giving us hope to a return to normalcy, these much-needed liability protections are an important step forward in our facilities' ability to recover from the pandemic and support the staff who continue to make a positive impact in the lives of their residents."
Justin Senior, CEO, Safety Net Hospital Alliance of Florida:
"COVID liability reform is one of the ways we can support our frontline healthcare workers and those hospitals that cancelled non-emergency surgeries to be prepared for a surge of COVID-19 patients last spring. We will always be the frontline defenders of health and the very mission of our hospitals – to be the highest trained professionals in fighting diseases and preparing for supporting the state during crises – was tested in the last year. We are proud to say we rose to the challenge and we will do so again and again, with the continuing support of Governor DeSantis and legislative leaders who make critical investments in our research and our resources."
About the Florida Hospital Association
Founded in 1927, the Florida Hospital Association is the leading voice for health care in the State of Florida. Through representation and advocacy, education and informational services, the Florida Hospital Association supports the mission of over 200 hospitals and health care systems to provide the highest quality of care to the patients we serve. Led by President and CEO Mary Mayhew, the Florida Hospital Association has offices in Tallahassee and Orlando and is governed by a Board of Trustees and officers elected by the member institutions. For more information, visit www.fha.org.