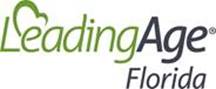 Governor Ron DeSantis today signed SB 72 into law, which will provide important COVID-19 liability protections for long-term care providers. LeadingAge Florida applauded its passage and issued the following statement attributable to President and CEO Steve Bahmer.
"We are grateful to the Governor for his leadership, for putting seniors first from the outset of the pandemic, and for signing this important legislation into law today. We also deeply appreciate President Simpson and Speaker Sprowls for their unfailing support of long-term care providers.
The COVID-19 public health emergency has been unprecedented on many fronts, and this legislation will enable our health care heroes to continue providing the quality care that Florida's seniors deserve, without the threat of opportunistic lawsuits.
Frivolous lawsuits don't improve care. They simply malign the tireless work of those who care for Florida's most vulnerable and drain already scarce resources in the process.
Our health care heroes have fought the virus with courage and resolve. They have been there for our loved ones from the start. Today, Governor DeSantis was there for them."
For more than 57 years, LeadingAge Florida has been the state's leading advocate for high-quality senior living, aging services and care. We are the only statewide association representing the full continuum of care for seniors. The Association provides up-to-date regulatory information, a wide variety of educational opportunities, representation before the Legislature and government agencies, group purchasing services, and opportunities for networking with peers to help member communities best serve the needs of Florida's senior population.