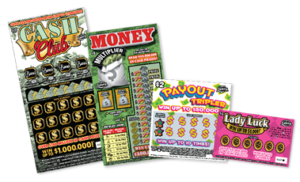 The Florida Lottery today is excited to debut four new Scratch-Off games! The games, LADY LUCK, PAYOUT TRIPLER, MONEY MULTIPLIER, and CASH CLUB range in price from $1 to $10 and feature more than $228 million in cash prizes! All Lottery retailers are expected to have these new tickets in stock and available for purchase within 72 hours.
CASH CLUB features ten top prizes of $1 million and gives players the chance to win $20 to $500 instantly with four additional bonus plays! When players scratch a 5X or 10X symbol, they can win five or ten times the prize shown. This $10 game offers more than $146 million in total cash prizes and the overall odds are 1-in-3.38.
Players can win up to $500,000 by playing the MONEY MULTIPLIER game! This $5 game offers more than $48 million in total cash prizes and gives players an extra chance to win by matching the prize amounts in the Money Bonus Boxes. The overall odds are 1-in-4.04.
PAYOUT TRIPLER gives players the chance to win up to ten times on a single ticket! Win up to $50,000 with this $2 ticket by matching any of your numbers to the winning number. Players can uncover a "MONEYBAG" symbol to win double the prize shown or uncover a "MONEY ROLL" symbol to win triple the prize shown! The overall odds are 1-in-4.73.
Players can make their own luck with the $1 LADY LUCK Scratch-Off game, featuring 36 top prizes of $5,000! This eye-catching, hot pink ticket allows players to try their luck at winning up to six times on a single ticket! The overall odds are 1-in-4.87.
Scratch-Off games are an important part of the Lottery's portfolio of games, comprising approximately 75 percent of ticket sales and generating more than $1 billion for the Educational Enhancement Trust Fund (EETF) in fiscal year 2019-20.
Florida Lottery offices are currently open to the public by appointment only for players with prizes valued at $600 or more. Players can request a claim appointment at Headquarters and district offices through the Lottery's website, at www.flalottery.com/howToClaim. Players can still utilize the secured drop box located at each district office or mail tickets to Florida Lottery Headquarters or a district office.
ABOUT THE FLORIDA LOTTERY 
The Florida Lottery is responsible for contributing more than $39 billion to enhance education and sending more than 880,000 students to college through the Bright Futures Scholarship Program. The Florida Lottery reinvests 99 percent of its revenue back into Florida's economy through prize payouts, commissions to more than 13,000 Lottery retailers and transfers to education. Since 1988, Florida Lottery games have paid more than $73.2 billion in prizes and made nearly 3,000 people millionaires. For more information, please visit www.flalottery.com.