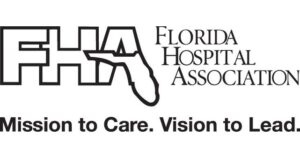 As the Florida House and Senate will begin working to finalize the budget in the upcoming final weeks of Florida's legislative session, the Florida Hospital Association (FHA) is continuing to work closely with both lawmakers and members alike, and has produced several analyses and resources surrounding the proposed health care budget.
"These analyses demonstrate the gravity of how health care cuts during a health care crisis would impact the hundreds of thousands of doctors, nurses and hospital staff, as well as the patients they serve," said Mary Mayhew, President and CEO of the Florida Hospital Association. "Our health care heroes were there for us when we needed them and need to be supported now more than ever."
FHA analyzed the impact on hospitals of funding cuts in the proposed Senate and House budgets for each of Florida's 40 Senate districts and 10 media market regions. The analyses also include hospitals' economic impact in their communities. The analyses are based on data for FHA-member hospitals in each district. In addition, FHA has also produced resources that correct budget misperceptions, summarize the legislative budget proposals, and more.
These resources, including the district and media market analyses, can be accessed HERE.
For media interested in discussing the proposed legislative budgets with CEO Mayhew, please reach out to [email protected].
About the Florida Hospital Association
Founded in 1927, the Florida Hospital Association is the leading voice for health care in the State of Florida. Through representation and advocacy, education and informational services, the Florida Hospital Association supports the mission of over 200 hospitals and health care systems to provide the highest quality of care to the patients we serve. Led by President and CEO Mary Mayhew, the Florida Hospital Association has offices in Tallahassee and Orlando and is governed by a Board of Trustees and officers elected by the member institutions. For more information, visit www.FHA.org.