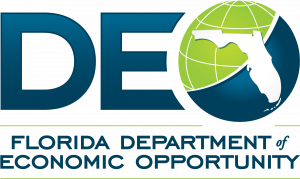 The Florida Department of Economic Opportunity (DEO) Executive Director Dane Eagle, Senate President Pro Tempore Aaron Bean (R-Fernandina Beach), and Representative Chip LaMarca (R-Lighthouse Point) today released the following joint statement in support of the Florida Legislature for their unanimous passage of CS/CS/HB 1463 to modernize the state's unemployment system. The legislation also establishes the Office of Economic Accountability and Transparency and other policy changes to make claims processing more efficient.
"I want to thank Governor DeSantis, the Florida Legislature, and especially Senate President Pro Tempore Aaron Bean and Representative Chip LaMarca for making the modernization of our state's Reemployment Assistance system a top priority," said Dane Eagle, Executive Director of the Florida Department of Economic Opportunity. "Governor DeSantis tasked me with solving the challenges of our state's unemployment system and this legislation provides the Department with the resources necessary to improve the delivery of Reemployment Assistance benefits to eligible claimants more effectively and efficiently."
"The passage of this critical legislation is a step in the right direction to improve and modernize the state's unemployment system," said Senate President Pro Tempore Aaron Bean. "The current system is frustrating to Floridians, and providing DEO with the resources they need to fix the system will enable them to deliver benefits to Floridians more efficiently."
"During the pandemic, my office and I spent countless hours and days fielding calls to help as many people as possible get access to the unemployment funds that they desperately needed. Sadly, the current system failed too many Floridians, and considering that it was impossible for the system to manage such a massive traffic increase, it's clear that the system could not physically help all the families seeking aid at the same time," said Representative Chip LaMarca. "This bill allows the state to make the much-needed changes to not only modernize it but to open up access to Florida families when they need it most. I promised to make this issue a priority and I'm thrilled that today we put an end to the endless hours hoping someone would answer their calls, hoping their application was submitted, and hoping to get the dollars they needed to survive. I'm proud that this legislation, with the leadership of Director Eagle, will create a system that Floridians deserve."
About DEO
The Florida Department of Economic Opportunity combines the state's economic, workforce and community development efforts, expediting economic development projects to fuel job creation in competitive communities and promote economic resiliency. For more information, including valuable resources for employers and job seekers, please visit www.FloridaJobs.org.