Florida A&M University (FAMU) senior student-athlete Keondra Eaton's path to graduation took an unusual route during the COVID-19 pandemic.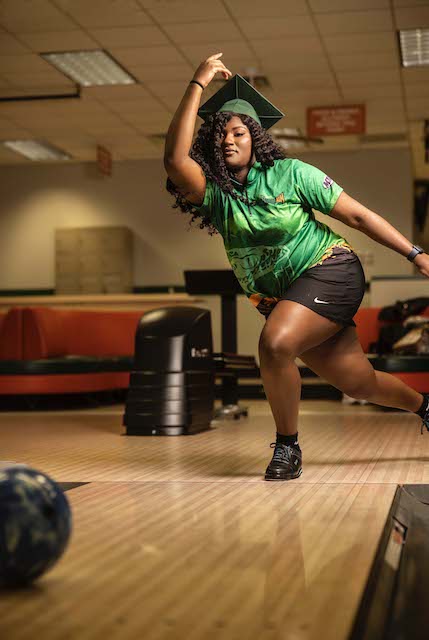 Eaton, a senior on the bowling team, not only saw her junior season end abruptly at the beginning of the pandemic but saw the cancellation of the entire season in her final year.
"It was extremely difficult to see everything play out," said the Baton Rouge, La., native. "I could have graduated in the fall but came back with the expectations of playing this past spring."
In her junior season, Eaton averaged a 188.3 pinfall in 31 games played, and rolled a high of 238 at the TBNA/HBCU Invitational.
That would be the final match played for the Rattlers prior to the start of the pandemic.
"We had already qualified for the MEAC (Mid-Eastern Athletic Conference) Tournament," said Eaton. "Everything was put on hold. We went from playing in March to hopefully playing in October. Then we were told we would not have a season."
FAMU head bowling coach Karen Brown said Eaton was a true leader for the Rattlers.
"She was the glue on this team," said Brown. "I hate that we could not have that one final season together. We will certainly miss her and that infectious smile."
Eaton, who will graduate on Saturday with a degree in economics, with a minor in pre-law had already started planning for the future.
With the NCAA allowing an extra year of eligibility, Eaton was forced to decide whether to return to FAMU as a bowler for an extra season or to graduate and move on.
Eaton chose to apply to graduate school at American University in Washington, D.C. She only had to wait 10 days before being accepted and will be seeking a master's in applied economics.
Perhaps one of the benefits for Eaton will be the ability to stay home while studying at American. She will be doing all her course work online. In addition, she will also be working fulltime as a personal banker.
"It's certainly a benefit," said Eaton of living in Baton Rouge and attending graduate school. "I won't be several hundred miles away from home and living in the nation's capital. I also can save money, and it's certainly the joys of being at home."
Eaton, who received news late Wednesday morning that she earned the Highest Scholastic Achievement Scholar Award from SBI, said she is looking forward to the next phase of her life.
"It has been a great four years," she said. "I just don't have that passion or drive to come back and do it again for another year, especially when I am continuing my education and doing something I love."