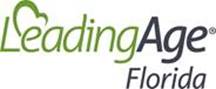 LeadingAge Florida, Florida's only association representing the entire continuum of care for older adults, issued a statement today following action taken during health care budget negotiations where the House accepted the Senate's offer of no reduction to Medicaid nursing home rates, which represents a change in the House's previous position of a 2% reduction in nursing home rates.
The statement is attributable to President and CEO Steve Bahmer.
"We applaud both the House and the Senate for their budget proposals and their efforts to ensure no cuts were made to nursing home Medicaid funding.
Operating costs for long term care providers increased substantially in the last year. Those increases have included the significantly inflated costs of personal protective equipment, enhanced infection prevention procedures and controls, and substantially increased staffing costs, among others.
Keeping this funding in place will help providers recover from the financial impacts of COVID-19. However, our work is not yet done.
This year, 237 of Florida's nursing homes will see their Medicaid rates reduced due to the ongoing implementation of the Medicaid PPS, a system that largely cuts funding from high-performing nursing homes. Not only does the new payment system pose a threat to the viability of many high-quality providers, the implementation timeline comes on the heels of a once-in-a-century pandemic that dramatically increased costs and reduced revenues.
With Florida set to receive $10.2 billion in federal relief funding and an additional $400 million in Medicaid funds, we urge the Legislature to allocate a one-time $47 million funding bridge to ensure Florida's seniors continue to have access to the highest quality of care.
We continue to be grateful for the state's top leaders prioritizing Florida seniors."
For more than 57 years, LeadingAge Florida has been the state's leading advocate for high-quality senior living, aging services and care. We are the only statewide association representing the full continuum of care for seniors. The Association provides up-to-date regulatory information, a wide variety of educational opportunities, representation before the Legislature and government agencies, group purchasing services, and opportunities for networking with peers to help member communities best serve the needs of Florida's senior population.